I am thrilled to have been invited by the fine folks at Worden to help out with a free Blocks webinar next Wednesday, July 23rd at 8pm ET.
I'll be co-presenting with Worden's Director of Training, Craig Shipman on Discovering Stocks Suitable for Your Trading. It'll be 1 hour long, completely free, and we'll point out a couple of core trading concepts and how to put them into practice with Blocks. I hope you'll join us!
Specifically, the webinar will cover how to locate stocks which are appropriate for your trading style, as well as how to evaluate pullbacks for potential buys.
Here's how you can register…

Visit the Worden homepage, and click the Blocks logo at the top of the page:

Then click the Upcoming Webinars description beside the July 23rd event: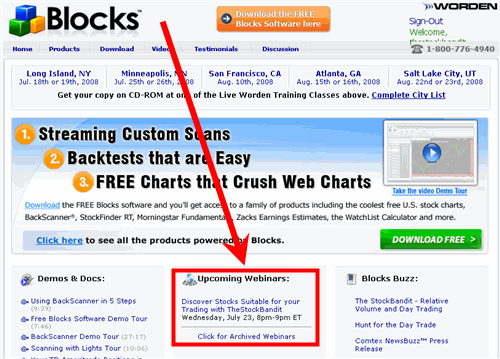 Sure hope to see you there Wednesday! It should be a fun, action-packed hour with some very helpful hints & tricks on using Blocks to find potential trading candidates.
And of course, if you aren't already using this charting software, then you'll see what you're missing out on. I've discussed this revolutionary product before, and it just keeps getting better.
(PS. Those who register will have access to the archived webinar even if you can't attend live.)

Jeff White
President, The Stock Bandit, Inc.
Swing Trading & Day Trading Service
www.TheStockBandit.com