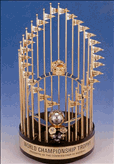 This is Part 4 of a series, be sure to check out Part 1 [1], Part 2 [2], and Part 3 [3] as well. New posts will be made during game days of the World Series.
Bring it In, Back it Up
Nearly every batter a defense faces will mean repositioning. Outfielders may shift to their left or right, or infielders may come in a little closer or play a little deeper than normal. It all depends on what they know about the guy standing at the plate. Is he explosive with the ability to send outfielders sprinting for the warning track, or is he more prone to hit an infield chopper and ground out?
As traders, we often need to make similar adjustments. It might depend on the general market conditions. Is it a quiet environment, or a volatile one with wide-ranging days? Or it may depend on the individual stock's personality we're considering a play in. Is it prone to trending smoothly, or does it tend to gap frequently and make holding overnight positions far more difficult?
Stay Objective
Our ability to properly assess any situation we face will make a huge impact on our ability to trade it successfully. Recognizing the conditions we're trading in and staying disciplined enough [4] to adjust accordingly will keep us in the game. It'll minimize our errors, and it'll maximize our success when we're at our best.
They key here is to stay objective and honest about what we're seeing. Having the presence of mind and the maturity to accept whatever that may be means keeping a level head. It means we'll recognize volatile situations with frequent gaps and know that we need to reduce our trade size and shorten our timeframe to day trading [5]. And if that isn't our preferred timeframe, then we wait [6] for that which is. At other times it means we don't attempt to dart in and out quickly as much, instead realizing that smoother trends exist which offer us much more by way of swing trading [7] on a multi-day basis.
So as you come across quality setups in which you're considering making trades, remember the conditions you're trading in and blend your style [8] with the market's action. Shorten or lengthen your timeframe as needed, and you'll be far better positioned to profit from the moves.
Trade well out there!
Jeff White
President, The Stock Bandit, Inc.
Swing Trading & Day Trading Service
www.TheStockBandit.com [9]
[tags]Stock Market, Day Trading, Stock Trading, Investing, Swing Trading[/tags]