Novice traders are equipped with very little useful information, as even your grandmother knows to "buy low and sell high."
With the recent correction, many stocks now are starting to appear 'low' on the scale, and that's enticing – but dangerous – to those who have been waiting for a shot at getting in. The trouble is, that age-old "wisdom" doesn't tell the whole story.
Cause for Caution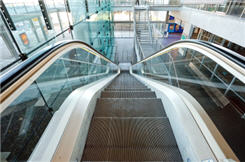 Merely buying a stock on the basis that it's cheaper now than it used to be is no formula for success.  The goal is to be buying when there's an expectation of higher prices. When prices are declining, the trend is of course down, which means it's best to wait for some technical proof that the correction has ended before aggressively buying.
Think of it this way.  At the department store, escalators come in pairs.  There's an up escalator, and a down escalator.  Buying stocks on the slide in expectation that they're going to go right back up is like getting on the down escalator in hopes of it rising.  It makes no sense.  Eventually, the down escalator will end at a level floor, which in the world of technical analysis will be support [1].  Only once that's found can you step onto the up escalator with a realistic expectation of a ride back up.  Wait for stocks to do the same thing.
Proof of Change is Needed
After a long-lasting bull market like we saw from March 2009 to April 2010, there's going to be new money attracted to the game.  So we know right now there are some new traders in the mix who are aiming to buy low, and it's no surprise many are getting hurt with the recent 'discounts' we've seen in prices.  The market has been in a correction phase for several weeks now, and it hasn't been pretty.  More importantly, it might not be done yet.
The real key here is to wait for the technicals to shift, and that will come in the form of a higher low on the daily chart.  We've already seen higher highs get established in the NAZ, S&P 500, and DJIA, but they have yet to create higher lows.  That may happen soon, or it might be a while, but that's the next element to watch for before committing to the long side for anything but quick trades.  On the premium site, that's the stance I'm taking for now, and June's been good so far because of it.
Trade Like a Bandit!
Jeff White
Swing Trading & Day Trading Service
www.TheStockBandit.com [2]
Are you following me on Twitter [3] yet?