We've seen persistent strength in this market since the July 1st low, and while the long side has been the one to trade on, it's still important not to chase extended names.
Fortunately, looking through hundreds of charts each day can still yield several opportunities, particularly if you know what to watch for.  Too many traders fail to recognize the value of rest for a stock, and if it hasn't moved in several days they tend to forget about it.  My take is that those rest phases can be the pause that refreshes, especially if there's been some recent momentum present.
Today I'm bringing you one such stock.  It's been climbing very well since turning the corner several weeks ago, and has also done an excellent job of digesting advances with these rest phases.  There's still some room for this one in the short term, so it's on my radar.
I'm watching ASH for a push through short-term resistance at $53.10 for a trade. One higher low has already been established, and the stock has been basing for the past 8 sessions after a solid advance.  This one looks like it may make a push toward the downtrend line which has been in place since April, which also offers a logical spot to book gains (if reached) in the $55.50 area.
Here's a closer look for you: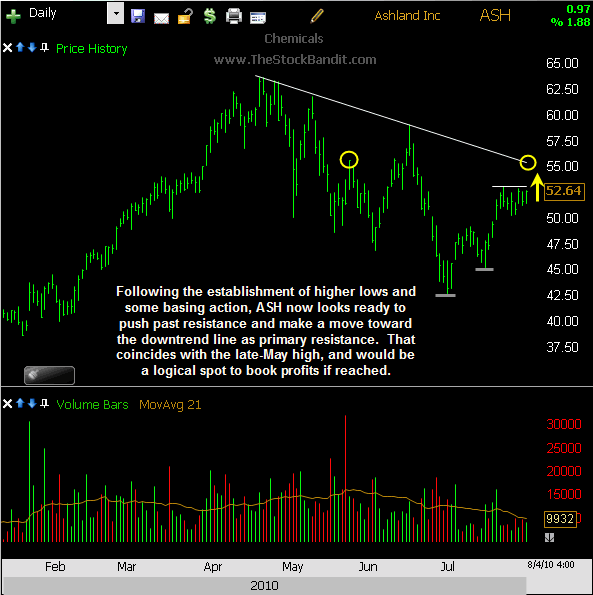 Trade Like a Bandit!
Jeff White
Swing Trading & Day Trading Service
www.TheStockBandit.com
Are you following me on Twitter yet?