I was pointed to a post earlier today which I couldn't disagree with more.  The author opined that trading this market is a 'waste of time' and that the 'real' money won't be made until a month or two from now.
If that's your attitude, you'll be exactly right. Attitude is everything – especially in trading.
Using broad, absolute statements to ignore what's right in front of you will help you be correct – only problem is, you'll make no money trading.  And isn't that what trading is about?  I'd rather make money than be right.
It's dangerous to adopt the 'waste of time' mentality, now or at any other time.  Someone's always making money, and therefore opportunity always exists.  Right now, whether you're a day trader or a swing trader, this market is moving plenty right now.  We just rallied 12% in 6 weeks – how is that not enough? If you can't pull some good trades [1] during a period like that, then this game isn't for you anyway.
Beyond that, the technical price action of late has been textbook – does it get any better than that?
We've seen multi-day rallies followed by shallow pullbacks, with higher highs and higher lows established along the way.  An uptrend line [2] was tested several times before finally breaking Wednesday, and the reversal which has followed has been very decisive.  So whether you prefer the long or the short side, there's been ample opportunity for you.
Here's a closer look for you: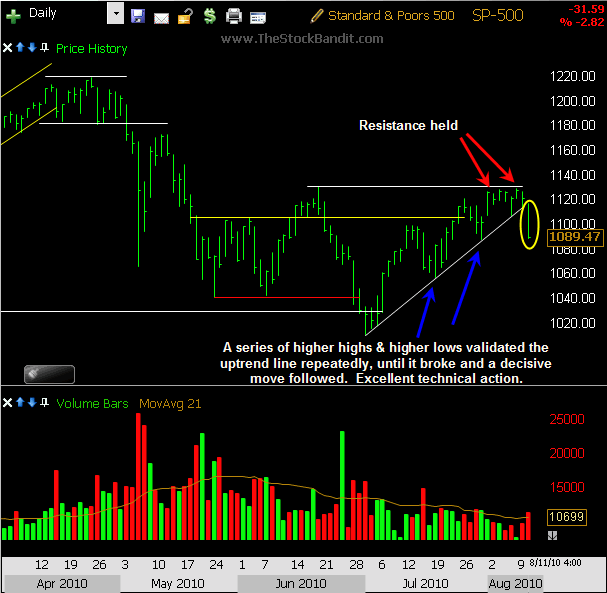 [3]
Finally, don't be delusional enough to think you can call weeks in advance when a 'real' move will begin.  Remember, the market caters to nobody.  It's not about being wrong or right on the timing either, it's more about wasting the time between now and then by waiting and not watching for opportunities which are surfacing regularly.
Stay on your toes out there, and shun all excuses [5] – a lack of success can't be blamed on circumstances.  If you're focused and you're attentive to the price action, you'll get paid for your time instead of thinking it's a waste.
Trade Like a Bandit!
Jeff White
Trader, Producer of The Bandit Broadcast [6]
Are you following me on Twitter [7] yet?