[1]I became a smartphone user back in 2004, and for all this time I've waited for a charting app that was suitable for me.  I've long been able to manage positions and place trades from my phone, but what's been lacking has been a customizable, high-quality, dedicated charting app – until now.
Worden [1] has delivered excellent charting products for decades (I've been a Worden user since the 90's), and now they have a charting app in the Android Market (iPhone app coming soon), TC2000 Mobile [1].
I downloaded it today, and it instantly exceeded my hopes for what it might do.  I had expected to be able to punch in symbols and pull up a chart or customize the look of the chart or timeframe, but was blown away when I realized it has all of MY watchlists from TC already in there – AND all my chart templates!
A few of my favorite features:
View your personal WatchLists in real-time
Run your EasyScans with your custom settings on the go
"Spacebar" through your WatchList charts by swiping right & left
Read the evening Worden Reports
The newest version of TC2000 is a go-anywhere, access anywhere (desktop, browser, and now mobile app) version that's getting better every week with added features and regular improvements.  It's just coming out of beta, and I'm thoroughly impressed with what it already offers.
Screenshots of the new TC2000 Mobile charting app: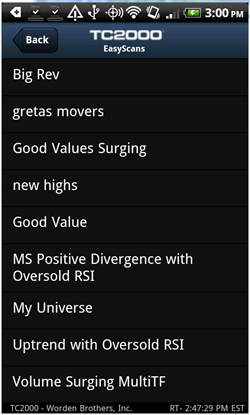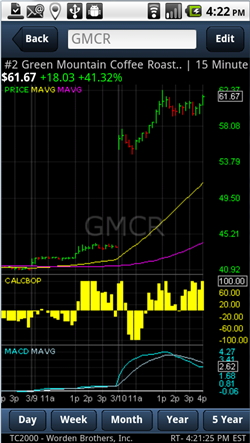 The TC2000 Mobile charting app is available through Gold or Platinum service levels, so if you're one of the many thousands of TC2000 [2] users with an Android phone (or soon on the iPhone), this is a must-have trader app!
**Update:  iPhone app now available in app store.
Trade Like a Bandit!
Jeff White
Producer of The Bandit Broadcast [3]
Are you following me on Twitter [4] yet?