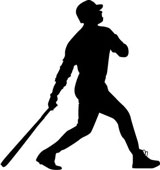 Here's 3 signs you have a home-run trade on your hands:
* Your initial target gets reached faster than expected.  Ideally, this is also accompanied by heavy volume to confirm the move.  Either way, this is a stock that's getting quickly on the move, and you're participating – congrats.
* You get runaway gaps in your favor.  A runaway gap [1] is an indication that emotions are heating up and traders are becoming impatient.  With prices moving in your favor, you're in good shape to capture additional momentum and be able to offer out stock at higher levels.
* Your stock has a historical propensity to make big moves.  This factor alone isn't enough to produce a home-run, but with either (or both) of the previous two at work, it only adds to the likelihood that the move getting underway is going to pay you well.
Momentum trading requires a different mindset [2], and momentum arrives when there's more emotion present than logic.  Keep this in mind the next time you have a trade performing better than expected, and see how much you can get out of it.
Trade Like a Bandit!
Jeff White
Producer of The Bandit Broadcast [3]
Follow TheStockBandit on Twitter [4] or get our free newsletter [5] to keep up!