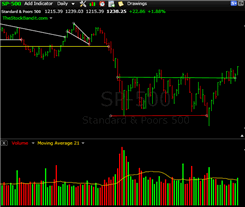 The indexes were able to put in some much-needed rest last week, holding their ground after their recent ramp.  The S&P 500 marked a new recovery high (as did the DJIA), while the NAZ and RUT churned in their respective short-term bases.
Technically, the picture has improved considerably, although it remains a headline-sensitive market right now with earnings season in full swing and all eyes on Europe.
As we head into a brand new week of trading, let's examine some important levels to keep an eye on in the days ahead. That will have the greatest influence on how individual stocks are going to move, so it's where the trading week begins.
Be sure to view in HD (720P) and full-screen mode for best quality in the video.
Trade Like a Bandit!
Jeff White
Producer of The Bandit Broadcast
Follow TheStockBandit on Twitter or get our free newsletter to keep up!