I'm really careful with trading drug stocks, there's just so much to them.  You have things to consider like FDA approvals, patient trials, lawsuits, huge news of positive or negative test results, etc.  It can get to be a mess, and very few of those items are scheduled news, so they're usually surprises.
That might sound exciting to some, but any veteran trader like me would tell you that surprises are not what a trading career is built on.  Surprises spook us, and full-time traders like me want only to avoid them.
Take the buyout news in VRUS, for example, which sent the stock higher on Monday to the tune of 85%.  Catching a pop like that doesn't sound so bad, right?
Well, considering that technically the stock was set up better for a short than a long, the technical play wasn't to be long over the weekend.  The daily chart had shown both lower highs and lower lows in recent weeks.  Those short would have effectively lost their entire position. Ouch!
Among other (more important) things this week, I'm thankful I had no position to begin with, but I just couldn't help but notice the outsized gap on Monday morning.
Risk in market is required to profit, but great traders identify ways to reduce risk.  Buyouts aren't easy to see coming, but drug stocks just have too much other stuff going on anyway.
Bottom line:  drug stocks are very tricky when it comes to overnight trades, so be consider the VRUS move another reason to be careful if you're trading them (and consider options instead of common [1]).
Here's a closer look at the chart: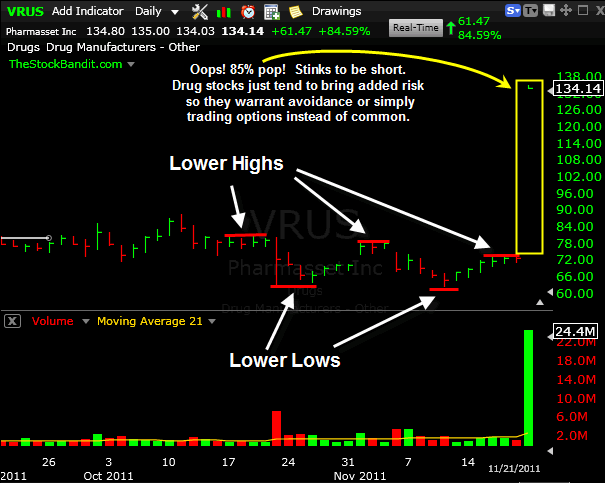 Chart courtesy of TeleChart [2]
Trade Like a Bandit!
Jeff White
Producer of The Bandit Broadcast [3]
Follow TheStockBandit on Twitter [4] or get our free newsletter [5] to keep up!