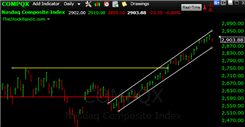 The market lost ground last week thanks to Friday's pullback, but that only resulted in a 2-point S&P decline for the week.  That translated into some healthy basing action which also allowed the NAZ to move back to the middle of its 8-week uptrend channel.
The NAZ tagged 11-year highs yet again, reminding us that buy-and-hold remains broken anytime people who bought in 2001 have to wait 11 years to get their money back.  It's a trader's market right now, and it's highly important to continue managing risk in what remains a stretched market.  Selectivity is the key for new plays, which I've been noting within the member area [1].
In preparation for the trading week ahead, let's examine some important levels to keep an eye on for the indexes. That will have the greatest influence on how individual stocks are going to move, so it's part of our Sunday process.
(Direct video link is here [2] for those interested in embedding it elsewhere to share).
Be sure to view in HD (720P) and full-screen mode for best quality in the video.
Trade Like a Bandit!
Jeff White
Producer of The Bandit Broadcast [1]
Get our free newsletter [3] to keep up!
Follow @TheStockBandit [4]