I've been known to periodically emphasize the importance of watch list management and maintaining quality watch lists, but it's time I show you exactly how to go about doing that. This is absolutely essential to staying sharp as a trader, because it avoids one of the primary pitfalls of today's trader – indecision.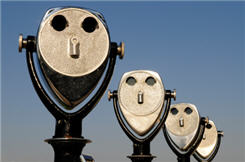 Perhaps you've been there before.  The market shifts from not doing anything to suddenly gaining momentum, leaving you with zero positions on.  Quickly, the fear suddenly strikes you that you're getting left behind.
Yes, the summertime can be known for that, but it can happen anytime.  And it's quite irritating to get caught feeling flat footed when the market bolts.
My Solution
I kept feeling like I needed a way to manage my favorite setups, but I didn't quite know the best way to accomplish it.  I've maintained bullish and bearish watch lists for years, but they were always separated and it was tedious to add and remove stocks to the respective list.
If you're anything like me, "tedious" diminishes the likelihood of that getting done regularly, because let's face it – we're all pressed for time these days.
Well, thanks to the folks at Worden who made this possible, StockFinder's Flag Column feature provided the perfect solution.  I set up multiple flag columns tied to new watch lists, and I've been absolutely thrilled at what it's done for me.
With ease, I can now add and subtract stocks from various watch lists with a quick double-click, which means there's virtually no time involved, and more importantly, I am staying organized.
When the market moves now, I have a go-to list of names for the appropriate scenario that I can immediately turn my attention to.  It's made a HUGE difference in my decision-making, and it didn't require that I turn into a super-organized person (that probably wasn't going to happen!).
Show & Tell
Instead of writing a 2000 word essay on how to do this, I've created a quick tutorial to show you how to build a layout exactly like I use. I posted this same clip over on the Trading Videos site and perhaps you've seen it there, but in case you didn't, I wanted to put it here on the blog.
Let me highly suggest viewing the HD version and going full-screen. You'll want to see the detail.
Oh and if you aren't already using this software, you can give it a try for 30 days free.  I use it every day and can't imagine trading without it, so I can't endorse it highly enough.
Here's the link to download the 30 day trial – I'm guessing you'll keep it like I did!
Thanks for stopping by and I'll see you here soon with more.  Until then…
Trade Like a Bandit!
Jeff White
President, The Stock Bandit, Inc.
Swing Trading & Day Trading Service
www.TheStockBandit.com
[tags]Stock Market, Day Trading, Stock Trading, Investing, Swing Trading[/tags]