Occasionally, it's my pleasure to get to deliver some great news here on the blog.
At the beginning of this year, I introduced you to the Trading Videos site over at TheStockBandit.TV.  Then in the spring, I got to show you the stock trading course at TheStockBanditUniversity.com, a video-on-demand training course for beginning traders.
Well, today I get to do it again with the announcement of a brand new website at the heart of our network, TheStockBandit.com.  The new look is indeed cosmetically striking.  It's cleaner, more streamlined, and straightforward.  A huge improvement, and I want you to see it.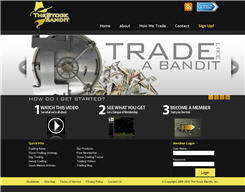 Along with the new look comes the best part – new functionality.
It used to be on the old site that members logged into a Member Area which was sequestered from the rest of the site.  Every feature was found in a different location, which meant it was hard to navigate and easy to get confused!
The new site works more like a blog, with anything new hitting the top of the members-only area – that way, our subscribers are continually seeing what's new.  It's fantastic.  There's even the ability to interact and comment right there inside The Bandit Hideout.  (Catchy name, yes, but appropriate!)
So head on over and check it out – we are excited to show it off!  And by the way, all the usual free resources and trading education info made the transition too, so those pages of chart patterns and trading strategy outlines are still there.
One last thing… we dumped our database of former members.
That sounds bad, but it's actually VERY good because you can start another free trial – even if you already received one on the old site.  It's only logical that with a new site, everyone gets a freebie.
So, I'll see you in The Bandit Hideout!
Jeff White
Are you following me on Twitter yet?