Anytime the market tanks like it has lately, astute traders realize that shorting after a decline of this magnitude and momentum is a real potential bear trap.  A sharp rebound could come at any time, leaving late shorts in a world of hurt.
I can't and won't argue with that – in the short term.
But the further this market declines in the intermediate term, the growing group of trapped traders are the bulls.  Keep in mind that the past few weeks have been a big shift of character for this market, with the prevailing mantra moving from buy-all-dips to sell-all-rallies.  Technically, that's very important to recognize.
And while a sizeable bounce will eventually arrive, the important issue for most bulls is "from what level?"
Head Games
That brings into play the psychological aspect of this change of character, whereby not only do bulls become fearful, but the bears gain confidence.  Bulls who bought virtually anytime over the past few months are now underwater, and the deeper this correction goes, the more that late-to-the-rally-party group wants out.
That could quite easily play out with bulls selling on the way back up – just the opposite of a few weeks ago when trapped bears covered on every little dip.  By the same token, just as a few weeks ago we were still seeing underinvested or aggressive bulls put more cash to work on even minor pullbacks, the deeper this correction goes, the more the bears will be using bounces to remount short positions.  That means what used to be buying by both camps is quickly morphing into selling by both camps.
A spring back up will at some point arrive, so fear not – this market is still a 2-way street.  But for now, respect for the tape should remain very high, because anything is still possible.  Whenever the inevitable recoil of this selloff kicks in, keep in mind that it too could get faded, and therefore will have to earn your trust.
Here's a look at the S&P right now with the March lows coming quickly into view at 1249 (which may need to get broken before a real bounce happens):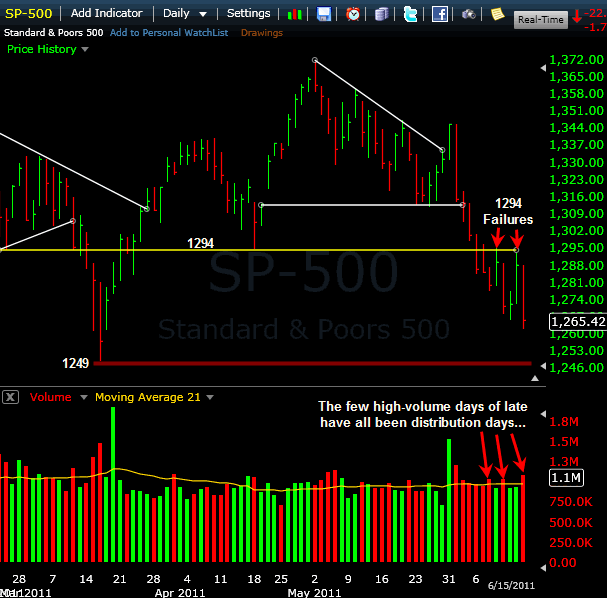 Trade Like a Bandit!
Jeff White
Producer of The Bandit Broadcast