WTW was in a clear downtrend.  The stock had failed in early-November to clear late-October resistance, and subsequently reversed lower.  Each bounce was sold since then, with a series of lower highs and lower lows.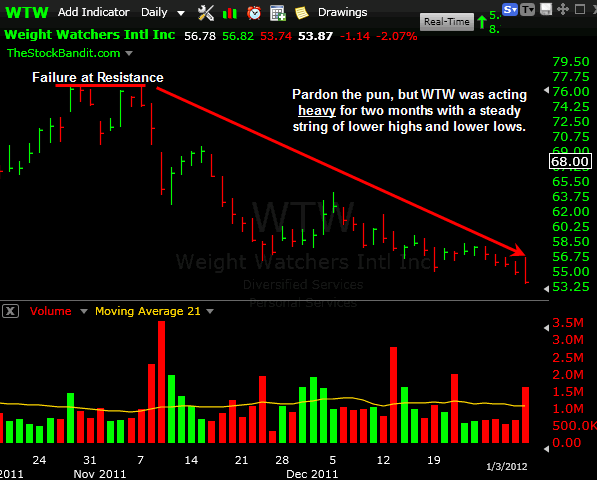 Last week, the stock broke to a new correction low by undercutting the December lows on heavy volume.  What followed, however, was obviously both shocking and painful for the shorts.
Wednesday's arrival delivered upbeat news for Weight Watchers as U.S. News & World Report put it at the top of the list for best weight loss diets in 2012.  Consequently, Wednesday's bar was a bullish engulfing bar as Tuesday's low was undercut before a close above Tuesday's high on even heavier volume with a 7% pop.  Then we saw near-record volume Thursday on an 8% advance, and further upside continuation Friday with nearly a 9% gain.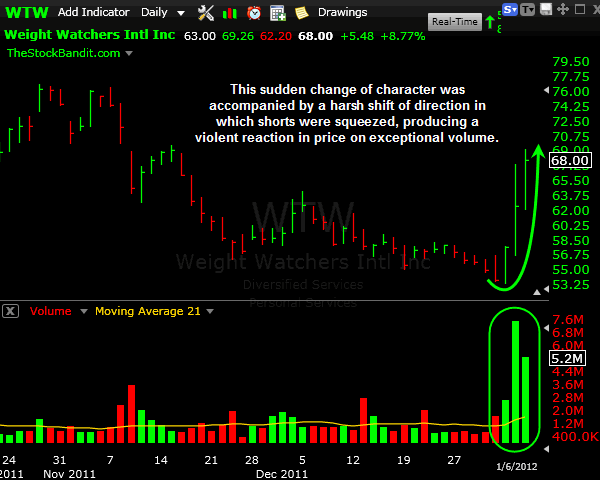 Change of character? Absolutely.  Value-buyer accumulation? Hardly.  This is the portrait of a short squeeze, and it's one reason shorts require absolute stop losses.  The sudden shift can rip the faces off of shorts who panic and rush for the exits while opportunistic bulls get long.  The combination can be explosive, as seen here in WTW.
The lesson?  Watch your shorts and don't give them more leeway than they deserve.  Keep stops in place and be mindful of what's possible when the tide shifts.  This is one kind of move you don't ever want to experience from the wrong side of the trade!
Trade Like a Bandit!
Jeff White
Producer of The Bandit Broadcast
Follow TheStockBandit on Twitter or get our free newsletter to keep up!