Casino stocks have seen a marked improvement in their price action over the past month.  A couple of them looked like death, but alas, they have perked back up and shifted their path of least resistance.
Two names in particular are LVS and WYNN, both of which have seen very constructive price action in recent weeks with upside momentum as well as rest phases – a very bullish combination.
I caught an excellent swing trade in LVS (which I shared with members) on Aug. 16 as the stock pushed past a descending trend line at $39.75 to begin another leg higher. That was worth a quick $4.05 to us as just 5 sessions later it hit Target 2 at $43.80, proving to be a timely exit.
Since then, it has given up a couple of points with some mild profit taking, but remains overall bullish.  The stock may need a bit more time before it's ready to rise again, but it belongs on the radar. The next move may not be quite as smooth, but a longer-term trend change looks to be in the making with a considerable cushion in place between current prices and the July low.
Here's a closer look at the chart of LVS for you and the levels to keep an eye on: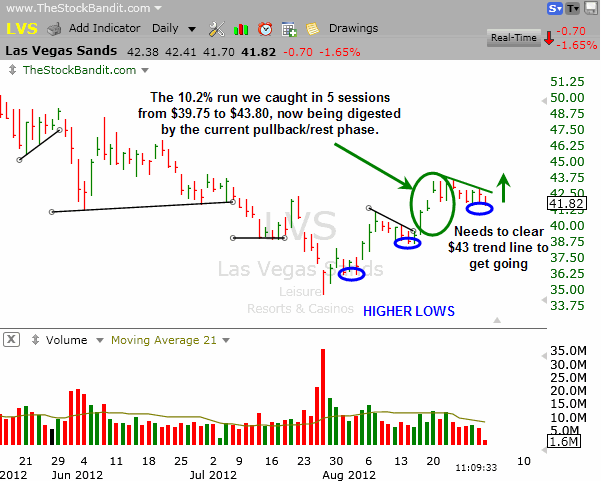 Another name in the same group is WYNN, which has seen a similar shift of character in recent weeks. Following a breakdown from the May-July trading range, the stock worked its way back into the range and early last week pushed past the upper boundary to create a higher high.
Since then, we've seen a quiet retreat but no negative character change as of yet. The current pullback could quite feasibly result in another short-term higher low (vs. $99.09 on 8/15), keeping the 4-week uptrend intact. Next it would need to close above the June high ($107.57) to confirm an exit from the channel, and then it's got ample room to run higher to retrace the May selloff.
Here's a closer look at the chart of WYNN for you and the levels to keep an eye on: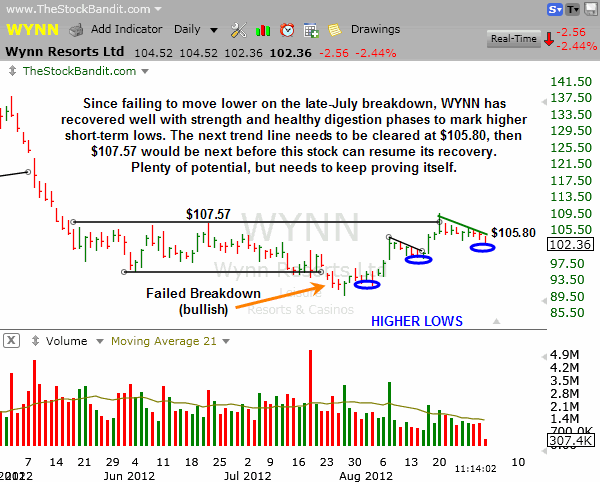 Each of these are showing signs of life again after harsh corrections from their spring highs, but may need a bit more time before they're set to go. Keep them on the radar.
Trade Like a Bandit!
Jeff White
Subscribe to our Stock Pick Service to get our trades.