In my office hanging on the wall, I have a whiteboard, a plasma TV, some handwritten wisdom my grandfather penned in 1973, artwork from my 3-year old, and a Kenny Rogers poster. A bit random, yes.
Right alongside those things, however, is a large photo of Ben Hogan's 1-iron approach to the 18th green in the final round of the 1950 U.S. Open at Merion.  It set up a 2-putt par to put Hogan in a playoff the following day, which he won for his fourth major title.  It's black and white – which is classic – just like the moment it captures.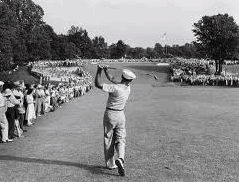 Preparation + Confidence = Performance
When I stare at the photo, I'm most impressed by Hogan's focus.  Perhaps the first thing you notice about this famous picture is the gallery lining the entire scene.  Thousands had spent their day following him, and with the finish imminent, they stood silent, awaiting the outcome.  And with history on the line, Hogan hit a masterful shot – just as he had practiced countless times – as if he weren't nervous.
But he was human – and nervous indeed.  He knew what was on the line.  His confidence and preparation simply suppressed the effects [1] of his nerves, so that he could perform his craft and execute with precision the same shot he'd hit many times in solitude.
It didn't matter that he had to make par.  It didn't matter that he had to hit arguably the hardest shot in golf – fading a 1-iron against a right-to-left wind so the ball would land softer on crusty U.S. Open greens.  And it didn't matter that he was likely exhausted from walking 72 holes on legs which had been battered so badly in a near-fatal car accident just a year prior.
What mattered to Hogan was wrapping himself up in the process, ignoring the buzz around him, forgetting (if not thriving on) the pressure he faced, and relying on his preparation – both physical and mental – in order to produce a great result with controlled emotion [2].
Repetition is the Mother of Skill
Whether it's sports or music or any other craft – including trading – there's no substitute [3] for preparation and practice.  Hitting golf balls on the driving range can produce the "muscle memory" needed to groove a golf swing.  Standing in the gym and shooting free throws every day will make you better.  Watching the order flow, working the charts, and making trades on a regular basis will both train your eye and develop the gut feel you need as a trader.  And such things must be done by those who want to get good.
But for those who want to be great, that's not where it stops.
Both your skills and your mental game must be improved.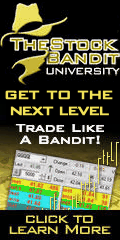 [4]When it comes to skills, you have to hone your existing skills and tighten up any loose ends.  Tighten your routine, and increase your discipline with what you know.  But you must also build your cache of talents.  Learn to operate on other timeframes.  Get better at evaluating risk, managing money, and overcoming biases.  Become more efficient by learning when to add to winning trades, hop on board existing trends, identify reversals, trade news, and execute with precision.  Not surprisingly, these are the same skills which are taught in the Advanced Trading Course [4].
Beyond those things, your mental game cannot be ignored.  Visualizing literally everything [5] and mentally rehearsing situations and emotions is another key component.  Hogan practiced for repetition, but he also practiced with purpose, picturing situations where he'd need to pull off a shot under pressure or with potential distractions.
You must do the same.  Make the time every day to take a break and shut everything down around you.  Make a list for yourself of situations you might face in your trading, whether a string of losses or wins, or monitoring multiple positions, or the urge to trade when nothing is setting up, or feeling left behind in a market move.  Take them one at a time, and imagine what you will do and how you'll respond.
Picture yourself in control, not in a way that everything does what you want, but in such a way that you're not feeling panic or fear or distraction from your trading process.  Imagine the intensity of each situation having the opposite effect by actually increasing your focus [6].  Starting off, it may just be a couple of minutes, but as you practice and become more skilled at visualizing, you will add more time.  And you'll be amazed what follows.
As you think about your trading, are you able to approach big situations with supreme confidence?  Do you need to know more or improve your techniques or get better equipment or become mentally tougher?  Then what are you waiting for?
Trade Like a Bandit!
Jeff White
Producer of The Bandit Broadcast [7]
Follow TheStockBandit on Twitter [8] or Facebook [9] to keep up!