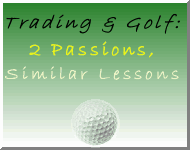 In golf, it's not how good your hits are but rather how well you miss it. Leaving yourself in position to play the next shot is crucial on every hole, and taking chances you can't afford to take can ruin your score (and bruise your ego!). Trading is so similar, because although we're going to be right at times, we'll all be wrong plenty. Successful trading is only partially about your winning trades (hits), but don't underestimate the power of missing it big. Making a run at that 20-foot par putt after struggling to make the green can easily leave you walking away with double-bogey, compounding an already poor effort. Risking it all for just a little glory or doubling down when you're wrong in a trade can quickly put you right out of the trading biz!
Instead, why not do your best to minimize pain? Let those losing trades hit your predetermined stop loss, just as you would punch out of the trees to get back to the fairway. Playing for bogey hurts a little, but it won't kill you. So, accept at the beginning of the day that you might be wrong on some trades. Take your medicine when you deserve it, and live to play (trade) again!
Jeff White
President, The Stock Bandit, Inc.
www.TheStockBandit.com
[tags]Golf, Trading, Trading Psychology, Trading Tips[/tags]
By the way, subscribing to this RSS feed will mean you won't ever miss a post!