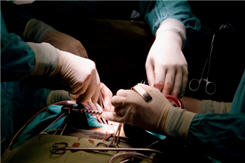 A year ago, I was in a surgeon's waiting room.  He was running late after having to do an emergency appendectomy.  He hadn't overslept or blown off his appointments for a tee time – he was operating, just as I'd expect a surgeon to.
With scheduled surgeries on the calendar, as well as the emergencies which inevitably pop up, he wakes up every day knowing he must be on his toes.  He has to be prepared for whatever comes along.  Routine procedures will even occasionally throw the proverbial curve ball his way, and he's the one that must respond accordingly for the well being of his patients.
Some of you might be surgeons, but I'm confident that all of you reading this are traders. And at this point, hopefully you know exactly where I'm going with all this.
Maintain Your Edge
As a trader, it's important that you stay active and stay sharp.  You'll of course take vacations (hopefully of the exotic type) and have times when life calls your attention elsewhere temporarily.  That's fine, and I'm certainly not suggesting putting your trading before all else – that would be unhealthy and out of balance.  I'm all for maintaining perspective and priorities.  However, if you truly want to get good and continually improve, you've got to be in the game on a regular basis to some extent.
I attended a couple of preseason NBA games this week.  During the offseason, one player in particular had just signed a huge contract.  Now, preseason games don't mean anything at all.  The fans love them, of course, but they're generally treated like scrimmages and an opportunity for teams to start developing some chemistry after a few months apart.
Watching the game, it was quite clear who's been working hard over the summer and who probably took the mindset of "it's a long season, I'll eventually get sharp." The aforementioned big-contract player was of the former attitude.  It was clear he worked on his (already great) game, and he was eager to get all the playing time he could – even in a preseason, so-called meaningless game.
This guy wants it, and he shows up to play every time out.  In terms of dollars, he's long since arrived and would have a hard time spending what he's already amassed.  But money is not his sole definition of success, and it's clear in how he plays the game.
Plan & Play to Win
As you reflect on your trading, I wonder if you're seeing some glaring problems standing in the way of your success.  Some take more time to work out, such as learning to accept a loss or understanding the times when sizing up isn't appropriate.  But if it's just more "minutes on the court" that you truly need, that's a much easier goal to reach…and one which will pay many dividends.
The end of the year is approaching, but it isn't here yet.  You've still got a couple of months before you'll need to review 2010 and look ahead to 2011 and set appropriate goals.  That time will come.
For now, you still have time to make 2010 better.  You still have time to gain some momentum into the end of the year, so that you can hit the ground running when January hits.  But you've got to look at each day as an opportunity to grow.
Let me be clear though – it won't happen from the sidelines.  You've got to make it a habit to be in the market regularly.  Modify your timeframes if you need to, and trade small when you're struggling to get a feel for the tape, but be active, stay sharp and on your toes.
Surgeons operate, and get their hands (gloves) dirty.  Athletes play and sweat and push for improvement.  Traders trade and face the pressure and find ways to grow.  The best simply do not allow themselves to go cold.
Earlier this year, I completed a major trader training project which required a lot of my time.  It took a few months to finish it all.  I could have cut that time at least in half, but I maintained a daily devotion to trading, even in the midst of a big undertaking.
I write blog posts like this one every week, and I produce a nightly stock newsletter for subscribers over at TheStockBandit.com.  I'm a husband and a dad, and trading isn't my entire world.  But I'm in the market every day, moving my money into and out of opportunities as I see them.  It's the focus of my work day, and it's what my evening preparation points to.  Staying in the game is how I stay sharp.
Are you doing the same?
Trade Like a Bandit!
Jeff White
Producer of The Bandit Broadcast
Are you following me on Twitter yet?