I've day traded GOOG a lot in the past week. It's got great volume and moves a lot every day. The beauty of it is that I can be wrong several times in it, taking small losses each time, and then catch one move and make back much more than I may have lost, even trading the same share size.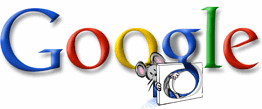 What I'm wondering, though, is after this huge run, can GOOG make more giant intraday moves like the high-flyers of '99 and 2000? Having traded actively back in 1999 and 2000, I remember plenty of the triple-digit stocks which made $25 moves or more on a regular basis. Stocks like NSOL, SDLI, BRCD, QCOM and many others all made tremendous moves. Some more volatile days in GOOG like Monday's reversal would leave me feeling a little nostalgic while the market chops around in this high trading range.
Is a 10% move in GOOG intraday out of the question? GOOG's biggest gain of the year came in October following earnings, but it was all gap. GOOG has only posted 5 days this year with a 5% gain or more. Perhaps it's just a different animal than the high flyers 5 & 6 years ago, but I'm still on the lookout for more monster moves someday soon from the top dog of the NAZ.
Jeff White
President, The Stock Bandit, Inc.
www.TheStockBandit.com