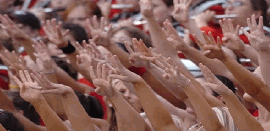 The home stretch is here. The 4th quarter is all we have left for 2006, so get ready to make it count! Where are you with your trading goals? Has it been a great year and you want to mostly hang onto gains? If so, stay picky and you'll be fine. Have you had a mediocre year and you'd love to make some progress before the fat lady sings? If so, sit tight – there should be plenty of chances to make some good trades if you do your homework and look for them. Enjoy the weekend but take a moment to remind yourself of what you want to have achieved by New Year's Eve
Whatever your situation is, bring your game face – it all starts Monday!
Jeff White
President, The Stock Bandit, Inc.
www.TheStockBandit.com
Watch me trade the 4th Quarter here.
[tags]Stocks, Investing, Stock Trading, Trading, Stock Market[/tags]
Related Articles: