The DJIA is going for its 15th up day in the last 16 sessions. That's only 1 losing day in the last 3+ weeks! Have we seen pullbacks? Sure, but they've remained very shallow thanks to one phenomenon:
Dip-Buyer Domination.
There seems to have been an amazing amount of cash sitting on the sidelines just itching for virtually any downtick to put it to work in recent weeks. This has kept the market climbing steadily, while simultaneously preventing pullbacks from showing any follow through. As a result, the dip-buyers just have a ton of confidence and they will continue to do their thing until it stops working.
This morning, however, we have a sizeable upside gap which has potential to change things (at least temporarily). After a huge run recently, the market is now up far enough to finally entice some profit-taking. Those who have been buying every dip now have a possible exhaustion gap which is tempting the bulls to line their wallets and book recent gains, and who could blame them?
Technically, this is a good thing. Markets don't move in straight lines for very long, few would argue that. But the indexes are now up far enough from their uptrend lines to allow them some room to retrace without disturbing the uptrend. That means a breather could set in without panic, and that would be very healthy for this market whether you're a bull or a bear.
Here's a look at the DJIA as an example: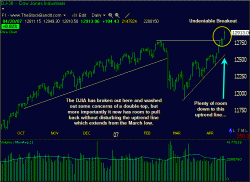 (Click for full size.) Chart Courtesy of TeleChart.
Although the odds of a rest have improved after this morning's gap, don't be in a big hurry to short sell, because the dip-buyers aren't likely to run away quickly.
Jeff White
President, The Stock Bandit, Inc.
Swing Trading & Day Trading Service
www.TheStockBandit.com
[tags]Stock Market, Day Trading, Stock Trading, Investing, Swing Trading[/tags]