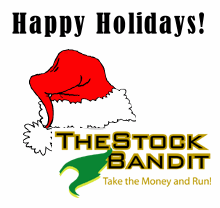 Lately everyone's discussing the so-called Santa Claus rally, and I suppose that is rightfully so given the recent upside. Rarely does the Santa Claus rally actually come on time, because the market is so forward-looking. Often it happens early or simply not at all, but this year it is right on time.
OK, so that's kinda nifty but let's talk about something that really matters: 2008.
The holidays are officially here, giving each of us the ideal time to reflect on 2007 and look ahead to the coming year. We can review what we've learned and consider ways we'll apply those lessons going forward.
The idle time between now and January 2nd should offer you an
occasion or two to find some quiet time and get real honest with yourself. Take it and put some effort into reviewing your year. Don't just run the quick numbers on your P&L – take a good look at where you can improve. Look at your trades, look for reasons why you lost and made money, and determine how to avoid the former and increase the latter.
Do you need to improve your skill set? Find a trusted resource where you can learn about tools you're lacking. Understand the chart patterns. Educate yourself on trading psychology. Learn to improve your execution and expand your use of various order types. Whatever it is, equip yourself with the tools necessary to be a better trader.
What about your discipline? Are you slow to cut losing trades, hanging around in lame stocks when you know you should be bailing out and moving on to the next opportunity? Discipline applies to winning trades too – make sure you're allowing your original game plan to play out and don't cut the legs out from under those trades which are working in your favor. And are you exhibiting the discipline each day to do your homework and get prepared for the trading day? If not, create some new habits for yourself come January 2nd that will improve your odds of success.
Every single one of us has ways we can improve as traders, and it's an ongoing process. What is holding you back from achieving the trading success you want so badly? Let me encourage you to find that area of your trading you feel you're lacking in the most, and make it your focus to improve it in 2008. It could mean a major difference in your performance going forward, and that progress is exactly what each of us wants.
So spend some quality time with loved ones and friends over the holidays, but be sure to reserve some time just for you so that once January hits you'll be right on track with your objectives and goals.
Merry Christmas & Happy New Year!
Jeff White
President, The Stock Bandit, Inc.
Swing Trading & Day Trading Service
www.TheStockBandit.com
[tags]Stock Market, Day Trading, Stock Trading, Investing, Swing Trading[/tags]