Last week we saw the market finally tack on some gains, although the volatility continues to run quite high with frequent reversals and very wide trading ranges. Are the indexes attempting to carve out some support to rebound from, or are they simply taking a breather before another decline? That's the trillion-dollar question at the moment, but my hunch is that we'll start to find out soon enough.
With Bernanke on deck this week, a slew of earnings reports yet to come, and of course the price action of late, it's sure to be another interesting week of trading – so show up prepared!
Before you even push a single button in your trading platform this week, be sure to check out the Market View video over at the main site for a closer look at the overall market as you build your game plan.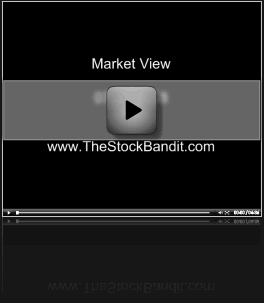 (Click image to view video)
Trade well this week!
Jeff White
President, The Stock Bandit, Inc.
Swing Trading & Day Trading Service
www.TheStockBandit.com
[tags]Stock Market, Day Trading, Stock Trading, Investing, Swing Trading[/tags]