One huge benefit I have of running the premium site over at TheStockBandit.com is the opportunity to interact with many traders on an ongoing basis.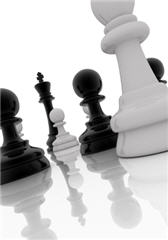 As a trader, I'm thankful for the chance to keep the dialogue going with others, discussing trading strategies and current conditions with traders all over the world. No two of us are exactly alike, but we have plenty of common ground to stand on as traders.
I usually have quite a few email conversations going with members of the site, and one from this week was worth revisiting.
There are a few elements from it that I'd like to share, so I'll break it down into a couple of pieces.
This particular trader (named Lisa) described herself this way:
"I am still in my development phase of trying to find my niche, as to where I fit in this big world of trading."
She's right – there are many ways to skin the market cat, and many developing traders never quite are able to determine which one is right for them.
I think a big key here is to be decisive.  Rather than staying on the fence between numerous styles of trading, it can be very rewarding to select one which is appropriate for your situation starting out.  Seek out some possibilities, pick one, and start to develop it.
After describing a couple of specific strategies she's trading right now, she went on to make the following comments:
I am becoming a much more diciplined trader. I think I am coming along with my own style and my own thinking, and it is truly a process. I know enough to keep myself above water, but I am fine tuning my technique.
Awesome!  Discipline is always a good thing, and learning to think for yourself is an absolute must.  I have no problem assisting traders however possible, but the aim is to get them to the point to where they do not need to rely on me.
It's very satisfying to become self-sufficient as a trader.  If you aren't aiming for that, what's holding you back?
Also, it's important to remember that our development as traders is indeed a process.  That means some patience will be required, and we'll need to make some adjustments along the way as we move down the road to success.
Lisa's doing a great job of developing her trading strategy.  She's identifying her ideal opportunities, and staying away from those which have not proven fruitful for her.  Are you doing the same?
Thanks for stopping by and I'll see you here soon with more. Until then…
Trade Like a Bandit!
Jeff White
President, The Stock Bandit, Inc.
Swing Trading & Day Trading Service
www.TheStockBandit.com
[tags]Stock Market, Day Trading, Stock Trading, Investing, Swing Trading[/tags]