AAPL is set to report earnings after today's closing bell.  It'll be the focus of attention at times both today and tomorrow as the dust settles post-news, but truth be told, I have no interest either way.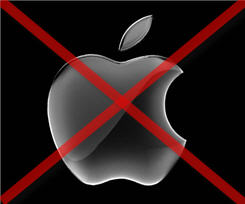 Obviously it's one of my trading rules to avoid stocks when they're reporting earnings, as scheduled fundamental news simply carries with it no edge for me as a technical trader.
But I've had no interest in trading AAPL for a few months now.  Let me explain why.
The short answer is that AAPL simply doesn't move enough. For a stock that's highly liquid (over 15 million shares/day on average) and within sneezing distance of $200, it should move a lot.  And yet it doesn't.  On an average day, it'll see an Average True Range (ATR) of about $3.  There are stocks trading at a fraction of AAPL's price which move that much and are still highly liquid, so why pay up for less movement?
Let's take a look at the chart.
Over the past year, we've seen AAPL's price rise dramatically, while its movement has shrunken dramatically.  ATR is a price-based measurement (not percent), so as price gets higher and higher, often times we'll see ATR expand along with that.  That's not the case with this stock.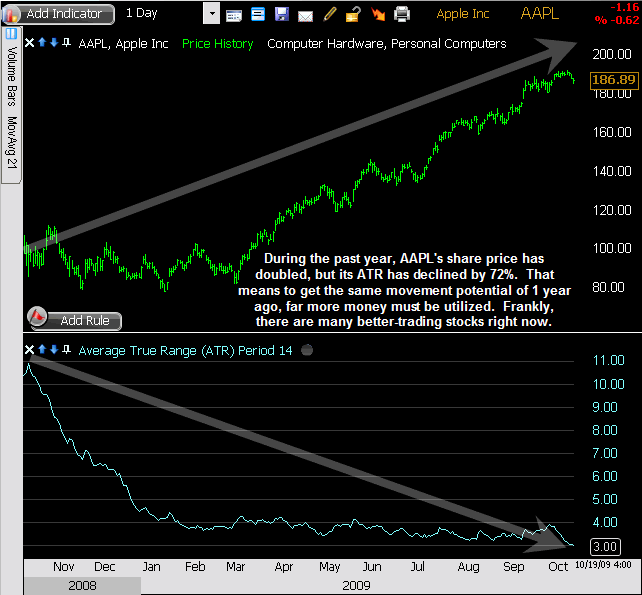 StockFinder Chart courtesy of Worden
Anytime you're trading the high-priced stocks, do your best to gauge whether there's enough movement there on an average day to justify an entry.  Others like GOOG, CME, and BIDU all are higher-priced than AAPL, but on a relative basis (when comparing ATR) they each move considerably more than AAPL.
At some point, AAPL will be worth trading again, but on an average day right now, the moves are just too limited to warrant an entry.
Thanks for stopping by and I'll see you here soon with more. Until then…
Trade Like a Bandit!
Jeff White
Are you following me on Twitter yet?