Every chart should be given a grade, if for no other reason than it'll require you to evaluate the entire situation and make a decision.  Should it be traded?  Should it be watched?  Should it be avoided?
Looking at the chart of F below, this one earns an 'F' on recent behavior as well. Here are several reasons why:
Lower highs are still in place.  This one has been trending lower since the April high, with every bounce getting sold.
For the past 2 weeks, the broad market's bounce from the June lows has been far more impressive than the rebound in F.
Volume on the recent bounce has been lackluster to say the least, with upside volume continuing to diminish.  That shows very little participation on the buy side.
I'm watching F for a trade on the short side, and there's a well-defined rising trend line that I'll be using as my pivot.  The last rising trend line was broken with a sharp move lower, and while this trend line isn't quite as steep, I still like the potential for a new leg down starting if it gets broken at $11.45…and particularly if it happens on increased downside volume.
F could instead rally from here, in which case I'd simply avoid it.  This one looks relatively weak, and the confluence of poor technical conditions lands it on my radar as a short candidate.
Here's a closer look for you: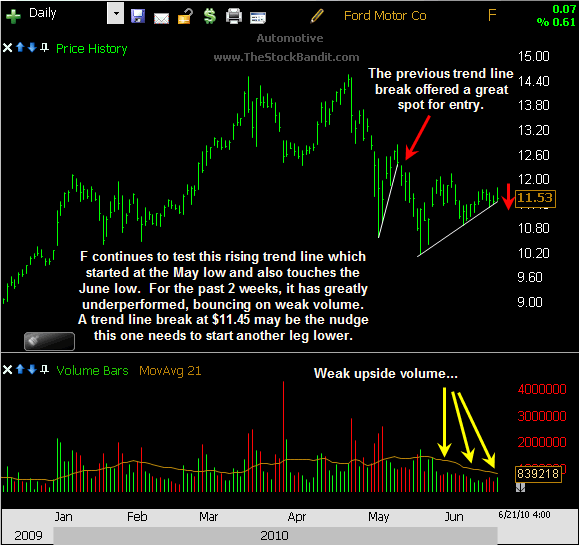 Trade Like a Bandit!
Jeff White
Swing Trading & Day Trading Service
www.TheStockBandit.com
Are you following me on Twitter yet?