The run in solar stocks has been an impressive one, although some have gone too far.
One name in particular, JKS, has become rather extended in the near term and is starting to show some telltale signs of fatigue and exhaustion.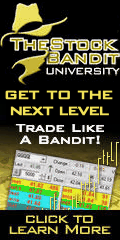 Having run from the single digits in July to over $30 last week, this one has plenty of room to correct.  The parabolic uptrend may have ended with the combination last Wednesday of new all-time highs and a reversal to finish negative on the day with heavy volume.  We then saw downside follow through Thursday and Friday, with the stock dropping a quick 23% off its high.
Since then, it's been able to rebound slightly, but there are a few issues with how it has happened.
First, price has only recovered a portion of what was given back.  Those who bought near the peak are still under water, and therefore could rapidly become sellers if this bounce fails to continue.
Second, the upside volume of the past 3 sessions is still only about half of the heavy downside volume which accompanied the Wed-Fri pullback last week.  That's a negative price-volume divergence, and with this stock possibly topping, it's definitely worth noting.
Finally, although the stock has recorded advances in the past couple of sessions, the finishes have been weak.  Looking closely at the daily chart, the closing level on  both Tuesday and Wednesday was well off the session high, indicating a lack of vigor on this bounce.
The Plan
With JKS in danger of creating a lower high on the daily chart, I'm watching the rising trend line like a hawk.  This one has ample room to come in, should some selling arrive, and therefore it belongs on the radar for the next day or two in case the reasons for caution listed above causes another round of selling to materialize.
I'm looking to short sell this one if it undercuts the rising trend line, which currently stands near $26.90 and climbs daily.  A break of that level could invite additional selling to enter the picture, and we could see the air get let out of this one rather quickly if last week's slide is any indication.
Here's a closer look at the JKS chart for you: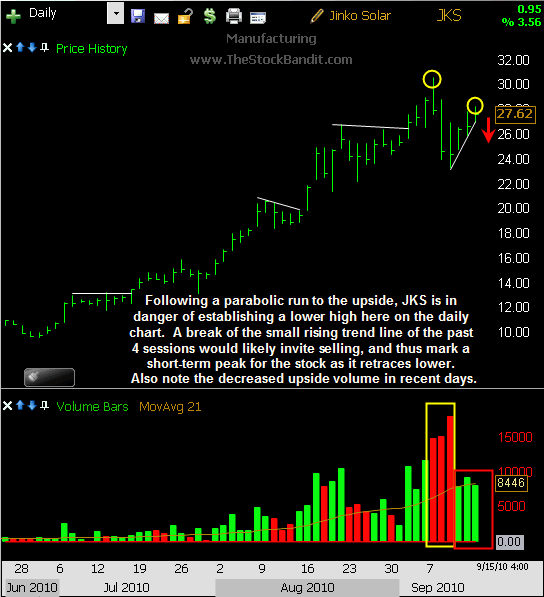 Trade Like a Bandit!
Jeff White
Producer of The Bandit Broadcast
Are you following me on Twitter yet?