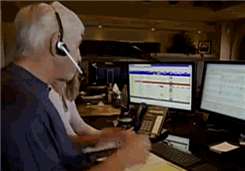 I caught a clip from a recent 60 Minutes interview in which a Las Vegas gambler named Billy Walters was profiled.  This is a man who, at 64 years old, understands risk and edge as well as anyone.  As a result, he's been dubbed "the most dangerous man" by Vegas sports books.
Walters has been a life-long speculator, betting on golf courses and in pool halls, and of course he wagers regularly on football and basketball games.  He's no stranger to streaks, having mentioned he's been broke more times than he can recall, and yet the show stated he's currently worth "hundreds of millions."
The interview is embedded below, and you've got to see it, but before we get there I just want to point out a few things Walters clearly does exceptionally well.  As traders, and therefore speculators in a different realm, we can all learn from him.
Success isn't about making one big bet. Note in the clip below how Walters never lets it all ride on one game, instead he spreads out his capital across multiple opportunities.  He's confident in the outcomes, but by operating in different games and even different sports, he also helps to protect his outlay from unforeseen events.  For the trader: don't put your entire account into one idea.
Success goes hand in hand with passion.  Walters' net worth is said to be in the hundreds of millions, so why does the show depict him placing more bets of a few hundred thousand or mention he's up $1M that week on his games?  Because he's passionate about it, he loves it.  For the trader: if you don't love the game, it's going to be hard to get through the tough times and persist.
Get bigger when you have an edge. Over the years, Walters has increased his bets along with the expansion of his bankroll.  But beyond that, when Walters sees a line that's vastly different from his own, he bets very aggressively.  He trusts his edge, and looks to exploit it most when that edge is biggest.  For the trader: when your home-run setups come along with defined risk, size up.
Be creative.  Walters used to be small enough he didn't move the lines in the sports book when he placed his bets, but over time, he's become a major player.  That's required him to adjust his system along the way, utilizing his team of associates to place bets for him.  He also may push a line one way, then bet big on the other side.  For the trader: don't get stuck trading only one way, keep looking for a better approach.
Be persistent. A guy who claims he's been broke many times clearly exemplifies persistence to not only still be in the game, but to be such a huge success. When the proverbial (or literal, in his case) chips were down, Billy Walters hung in there and kept fighting.  He expected success, and he kept working until he got it.  For the trader:  stay in the game and don't give up.
Surround yourself with sharper minds. Walters admits his team is made up of people who are all smarter than he is.  That doesn't mean he isn't confident, but rather that he relies on others to provide assistance where he feels his skills are lacking.  He's no doubt the biggest success among them, but he attributes that to the bright people on his team.  For the trader:  if you're not getting where you want to be on your own, get some help.
Play for meaningful stakes.  One doesn't amass a fortune by accident, and Walters hasn't gotten rich by nickel-and-diming it along the way.  He recognizes an opportunity, gauges the size of his edge, and then puts his capital at risk in expectation of a sizeable payout.  For the trader:  once you understand how to trade, allocate capital in such a way that you stand to make a fair amount when you're correct – and never overtrade.
Here's the clip:
Trade Like a Bandit!
Jeff White
Producer of The Bandit Broadcast
Are you following me on Twitter yet?