Last week we saw an important test of the March lows in the NAZ and RUT, while the S&P 500 held slightly above support from the spring.  Those March lows give us a well-defined area to trade against, even if it's a long way back up to the May highs.  Stated otherwise, we may have just carved out the low end of a very wide range.
But that's not the only range found in this market.  We also have the NAZ caught between the 2700 area (late-Feb low & mid-April low) and the 2600 area.  It's working its way back up toward 2700, so the key will be if that level can be reclaimed on a closing basis.
Here's a look at the NAZ, including both the wide and narrower ranges previously mentioned: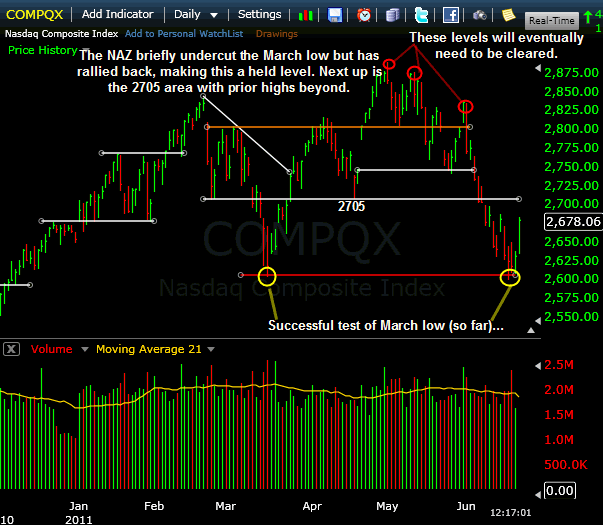 The S&P 500 has a slightly different situation here as it held above the March low and is currently flirting with the 1294 area which has proven important.  We saw the late-Feb selloff end at that level, as well as the mid-April pullback finding support at 1294.  More recently, that level was broken on June 6 and has yet to be reclaimed on a closing basis.  A push back up through there could certainly help this index, although it still has plenty of rebuilding work to do.  It has a higher intermediate-term low in place for now (June vs. March), but still stands a considerable distance from prior bounce levels (most notably 1345 from May 31).
Here's a look at the S&P 500 chart along with the noteworthy levels right now: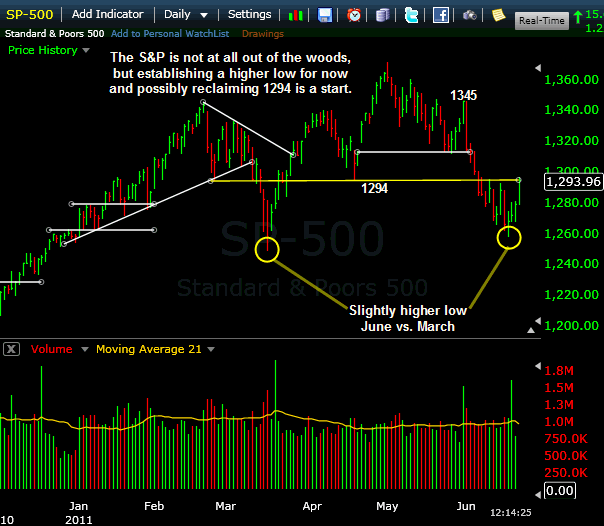 Needless to say, this market remains interesting and there should be no shortage of movement going forward.
On another note, the premium newsletter turns 7 today, so for those of you who are members and have stuck around from the beginning in 2004, we appreciate you and remain committed to providing ongoing, exceptional value which adds to your trading process!
Trade Like a Bandit!
Jeff White
Producer of The Bandit Broadcast