I noted yesterday that we were getting an upside resolution to the bull pennant pattern in the S&P 500, and it was no doubt a big day.  The point and percentage gains across the board were impressive, yes, but were still outweighed by the technical move.
Breakouts need to see follow through.  Sometimes they need it immediately, and other times it just needs to happen soon after.
For example, a minor breakout really needs to be followed by some immediate strength to build on the breakout and prevent a failure.  On the other hand, a major breakout doesn't necessarily have to see second-day strength to prove its validity.  In those cases, a day or two of digestion are perfectly fine.
That's how I'm interpreting today's price action.  The market made great strides yesterday to leave the pullback phase it had been stuck inside of, and today has been pretty quiet so far.  Because of the size of yesterday's breakout, I don't think it's imperative that we see continued strength today.  A day or two of rest are a healthy way to digest that move, particularly for the case of the bulls.  It allows for some churning between profit-takers and those nibbling at shares, and it lets the market catch its breath before possibly making another run.
We'll see how this plays out, but that's how I'm viewing it at the moment.
Here's a closer look at the S&P 500 daily chart: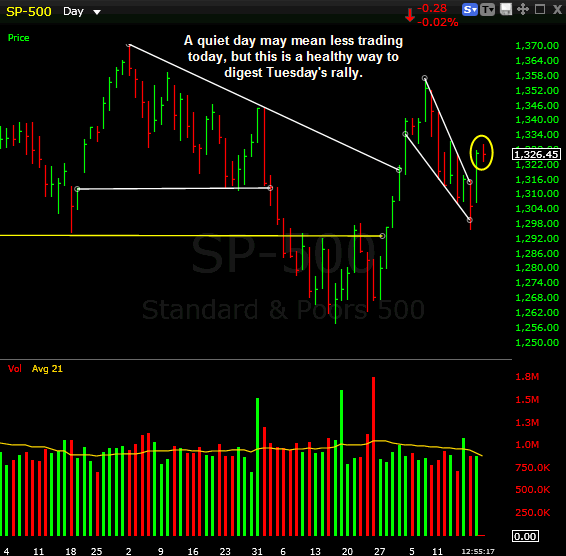 This day of rest is also highly important for the charts of individual stocks, as sharper moves tend to lead to reversals rather than pullbacks.  Keep that in mind as you work your watch lists.
Trade Like a Bandit!
Jeff White
Producer of The Bandit Broadcast