Homebuilder stocks have suffered for some time now, with most of them unable to make any lasting progress on bounce attempts.  Many of them have been trending lower, but there are a couple of standouts I'm keeping my eye on.
TOL is the first, as it has been creating higher lows for the past year, grinding its way higher without really showing any momentum yet.  It's been caught in a range for the past few months, but is bouncing from support here and has room to work higher in the short term.  Currently, there's a pretty big wedge setting up on the chart, so I'll be particularly interested to see which way it gets resolved.  If it's to the upside, it may be the start of some better price action as the stock again heads higher.  Earnings are due out August 22nd according to Yahoo Finance.
Here's a closer look at the daily chart: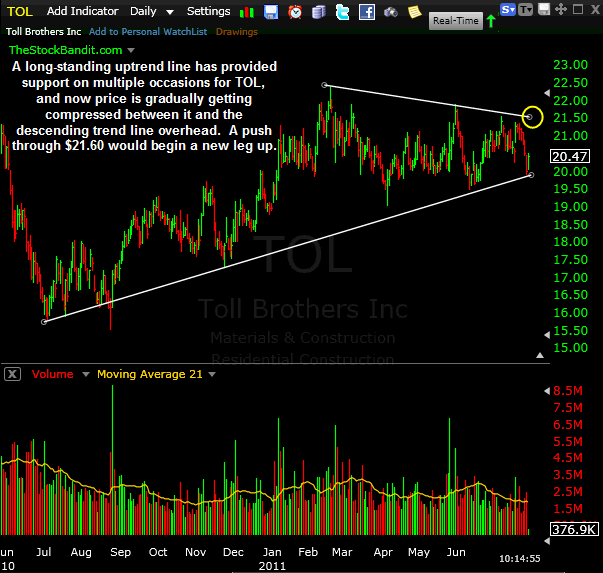 PHM is the other, as it has been creating both higher lows and lower highs for many months now.  In the near term, it has room to bounce within this wedge.  On a longer-term timeframe, it could gather upside momentum once it clears the downtrend line, currently at the $8.30 level.  It reported earnings this morning, so the news flow should be clear for a little while.
Here's a closer look at the daily chart: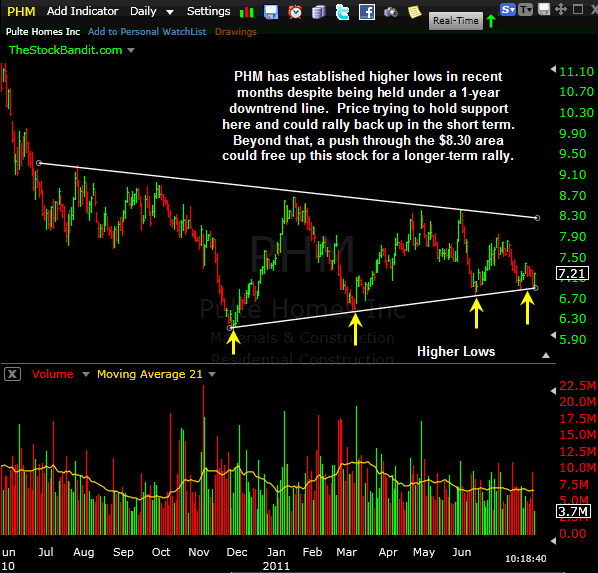 These are the kinds of setups I take a look at for position trades lasting weeks to months.  The sector itself remains under some pressure, but these are the two in the group I'd consider on the long side if support continues to hold.
Trade Like a Bandit!
Jeff White
Producer of The Bandit Broadcast