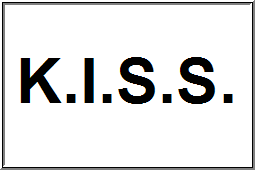 When it comes to trading, complicated does not equate to better.  So with that said, here's a quick checklist you can use to keep your trading simple.
Keep a core portfolio of positions you like.
Learn to locate new trades, identify patterns, and employ the best strategy given the conditions.
If the pattern confirms, enter the trade.
If the pattern fails, exit the trade.
If your target is met, reduce position (if momentum is still present) or exit completely.
Trading might not ever be EASY, but you can make it simple.
Trade Like a Bandit!
Jeff White
Producer of The Bandit Broadcast
Follow TheStockBandit on Twitter or get our free newsletter to keep up!