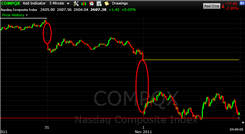 Current conditions and the overall complexion of the market is always subject to change, but it's still always worth taking note of.  The market seems to be continually morphing into another phase, whether it's range-bound, trending, highly volatile, or really tame.
Right now, we're in short-term pullback mode after seeing some upside continuation.  The past couple of sessions have been characterized by hefty downside gaps accompanied by limited intraday follow-through.  So with that in mind, I wanted to discuss the idea of chasing trades in an environment like this.
In this video, I'll show you what I mean based on the last couple of sessions.
Be sure to view in HD (720P) and full-screen mode for best quality in the video.
Trade Like a Bandit!
Jeff White
Producer of The Bandit Broadcast
Follow TheStockBandit on Twitter or get our free newsletter to keep up!