While the People of Wal-Mart website is always an entertaining bookmark, the stock itself is no joke.  Sporting nearly a 20% return since its August low, this slow mover has outpaced the S&P's return by about 2 1/2 times.
Checking out the recent price action, the stock is a bit range-bound, but a closer examination reveals an often misunderstood pattern: the cup & handle pattern.  The look of the pattern is easily identifiable to even novice chart readers, but they usually fail to take it in context.  Here, it's right where it should be found – within an uptrend.
Here's a closer look at the chart: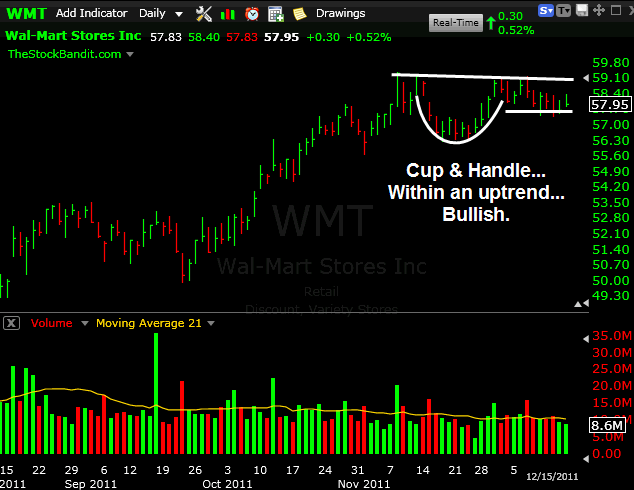 A confirmation of this pattern with an upside exit would put this one in the mid-60's in short order, so it's worth keeping on the radar even though it's far from a momentum name. If anything, this is simply an example worth pointing out. The handle may need a bit more work and it needs to threaten the upper trend line to indicate a move is imminent, but it belongs on the radar no less.
Trade Like a Bandit!
Jeff White
Producer of The Bandit Broadcast
Follow TheStockBandit on Twitter or get our free newsletter to keep up!