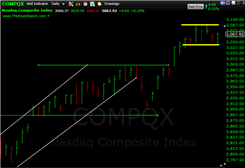 The market churned last week with mixed results, yet it was very constructive price action from a technical standpoint.
Selectivity remains the key for new plays, which I've been noting within the member area. A number of stocks are building high-quality patterns, which should make for plenty of opportunities in the days ahead.
In preparation for the trading week ahead, let's examine some important levels to keep an eye on for the indexes. That will have the greatest influence on how individual stocks are going to move, so it's part of our weekend process.
(Direct video link is here for those interested in embedding it elsewhere to share).
Be sure to view in HD (720P) and full-screen mode for best quality in the video.
Trade Like a Bandit!
Jeff White
Producer of The Bandit Broadcast
Get our free newsletter to keep up!
Follow @TheStockBandit