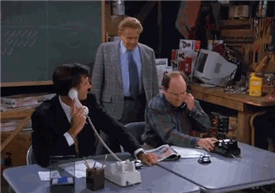 The bulls haven't found their footing yet as the market moves lower within its range.  In some cases, we're seeing some important recent levels get broken, namely S&P 1357.  The DJIA has approached the lower portion of the 600-point range, and we're getting a bit stretched in the near term.
Nonetheless, the bears are winning at the moment.  All news is bad news at the moment, and I'm mindful of the Seinfeld episode The Serenity Now where George Costanza gets outsold by his childhood rival Lloyd Braun.  No matter what George tries, he gets outsold.  The bulls can certainly relate.  (Hit the video link below for an entertaining 1-min clip.)
Lloyd Braun outsells George Costanza
While it's important to be careful pressing shorts at this stage of the pullback, it's equally important to respect the fact that each bounce has been sold of late.  Trying to get long before we see some stabilization could result in being 'early' (read: wrong), thus trapping  you.  It's never good to need bailing out by the market.
Best suggestion? Stay patient here.  Lighten up on shorts if you've caught some good moves.  Keep a shopping list handy if you're eager to get long, but protect capital here and wait for better setups to arrive.  Most bearish charts need some rest, and bullish charts are hard to come by at the moment.
For those curious about our trading style in the member area, we'd love to show you what we're all about.  We've been short since the end of last month and it's been a nice little ride lower. Check out the free trial to our stock pick service if you're interested in adding our ideas to your own.
Trade Like a Bandit!
Jeff White
Producer of The Bandit Broadcast
Get our free newsletter to keep up!
Follow @TheStockBandit