SPY has made a nice run since early August when a Monday-Thursday pullback was followed by a Friday lift which erased the 4-day slide. We've seen consistent follow through since then as well, sending the SPY into Monday having posted gains in 10 of the previous 11 sessions.
A run like that is never something to discount, and if blindly I heard a stat like that, I'd be highly cautious.  But in this case, it hasn't left the SPY extended.  It's up 4% during that time, but the way it has happened has been healthy.  The early portion of the run was rapid, then we settled into a rest phase.  That pause lasted 5 days, yet SPY only gained $0.46 during that stretch.  There was even a decline of a whopping $0.07 (Aug. 13), which isn't the kind of a reaction the bears can be proud of.
To see this major ETF posting so many advances of late would ordinarily be a bit scary.  Technically though, it's been a sharp rally, a healthy rest, and then some continuation.  Why would that be something to fade?
We're facing 52-week highs in the SPY and S&P 500, but they both still have room to run if the bulls feel so inclined.  We may turn lower and this run proves to have been a great selling opportunity.  However, the bulls have created higher lows on every single pullback since the June low, and that deserves respect.  I'm not about to bet against them.
Here's a closer look at the chart of SPY for you: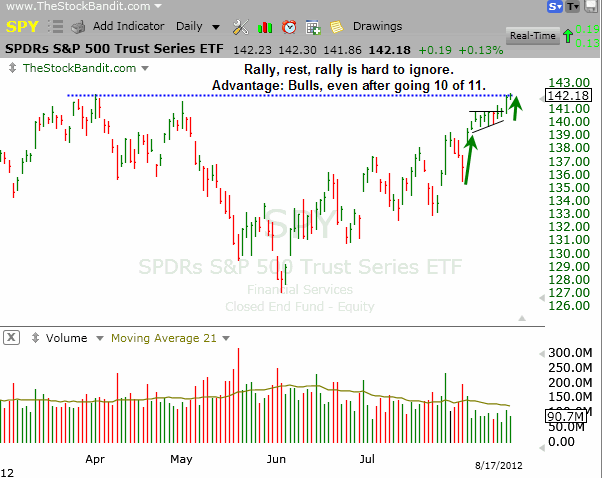 Trade Like a Bandit!
Jeff White
Producer of The Bandit Broadcast
Are you following me on Twitter yet?