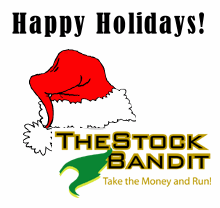 Ahh, the holidays…..for me they evoke thoughts of family time, big meals, and lots of naps during football games on TV! The holidays mean different things to different people, but no matter which ones you celebrate, you'll be wise to take into account the fact that holiday trading sessions may require some adjustments on your part if you want to pull some money out of the market.
(I'll keep this short and sweet because you and I both probably have some in-laws waiting on us!)
Holiday markets can be strange. The volume is lighter and the moves are just different. There's fewer participants (reflected by lighter volume), and that means the market will often move differently than usual.
Let's look at 3 ways to quickly adjust your trading approach for success during the holidays:
1) Shorten your timeframes. Light-volume markets are prone to reversals, so don't be afraid to take quick profits into an initial move……those profits might disappear before you know it!
2) Go where the action is. Lately it's been China-related stocks. But whatever the theme du jour is, locate the high-volume movers which are showing a change of character. Momentum traders will flock to the handful of stocks which are moving well during range-bound markets, so your best bet is to find those stocks and focus on trading them.
3) Don't trade at all! (We often forget that this is an option!) Take a break from the market and come back when everyone else does. Spend some time with family. Scratch some items off that to-do list (did someone say "rake leaves?"). Rest up and recharge so that when you do return, you've got a clear head. Getting away from the screens is never a bad idea, and the chances are that you'll come back better than you were when you left.
Whatever changes you make during these times, I wish you the best! Happy holidays from TheStockBandit.com!
Jeff White
President, The Stock Bandit, Inc.
www.TheStockBandit.com