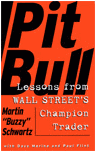 There are a handful of trading books which I have read many times and keep returning to on occasion, including Reminiscences of a Stock Operator, and the Market Wizards series by Jack Schwager. I would also recommend one other book which is written by a Market Wizard, Marty Schwartz, which is called Pit Bull.
Schwartz writes candidly about his history as a trader, including the struggles he went through for many years before becoming one of the biggest and most successful S&P 500 futures traders that has been seen. One portion of Pit Bull is called "Honor Thy Stop," and it contains some excellent thoughts regarding the use of these safety nets in trading. Here are several of his comments on the topic of stopping out of trades. I found these very useful, so you might relate to them as well. I have a few comments thrown in there too:
"You're the only one who's emotionally involved in your position."
How true! The market really doesn't care about what we're feeling, which is all the more reason to approach trades with more logic than emotion.
"Taking a loss is hard to do because it's an admission that you've been wrong. But in the market, being wrong some of the time is part of the game."
It's how we manage our wrong trades that will keep us on track.
"That's the problem with amateurs, they only have half a plan, the easy half. They know how much of a profit they're willing to take, but they don't have the foggiest idea how much they're willing to lose……Their plan for a position that goes south is, "Please God, let me out of this and I'll never do it again," but that's (false), because if by chance the position turns around, they'll soon forget about God. They'll go back to thinking that they're geniuses…"
It is amazing how being on the wrong side makes us repent for all of our trading mistakes, but when we're right we want all the credit.
"What most people fail to realize is that while you're losing your money, you're also losing your objectivity. The market…..doesn't care about you. That's why you have to put aside your ego and get out."
"…a stop is an investment in self-preservation because if you're wrong, it saves you those extra dollars that you'd lose by hanging on to a losing position. It keeps you from digging the hole deeper and it makes it easier for you to climb back out."
This is a great way to view the use of stops. They are safety nets for our well-being as traders, so why not use them.
"The more you lose in a trade, the less objective you become. EXITING A LOSING TRADE QUICKLY CLEARS YOUR HEAD AND RESTORES YOUR OBJECTIVITY….. By preserving your capital through the use of a stop, you make it possible to wait patiently for a high-probability trade with a low-risk entry point."
Of course the market is always there to remind us, but it's still good to have Schwartz's input on the subject to remind us that a big part of what made him great was his ability to contain losses when they occurred. In fact, Schwartz even states in the book, "I can tell you how I became a winner – I learned how to lose."
So the next time you're faced with the opportunity to honor thy stop, remember the success of Schwartz and know that while you're admitting defeat on that one trade, you're simultaneously adding objectivity to your next entry.
Jeff White
President, The Stock Bandit, Inc.
Swing Trading & Day Trading Service
www.TheStockBandit.com
[tags]Stock Market, Day Trading, Stock Trading, Investing, Swing Trading[/tags]