Last week I became a dad, and needless to say I am thoroughly thrilled! I'll be back writing in a few days, but just had to share the big news. Baby boy weighed in at 5lb. 13oz., and is happy and healthy at home with mama. I couldn't ask for anything more.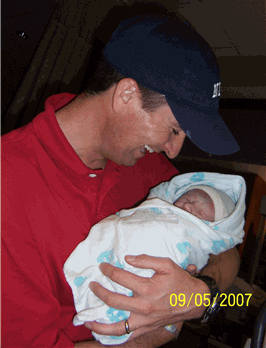 At times in life, events and people come along to put everything into perspective for us, and that's particularly true for us as traders. The flickering numbers and charts on our screens often become all too important to us until something else reminds us what life's really all about. Whether trading is a hobby or a profession for you, I'm sure you've had weeks where your trading results dictated your moods, and others during which you never even thought about trading because it's been farther down the priority list. The past few days for me can definitely be described as the latter!
In a couple more days I'll make the transition back to full-time trader and you'll find some market-related content showing up here again, but at the moment I'm loving the opportunity to tend to my personal life and adjust to my new role as a father! What an experience!
P.S. Check out the time stamp on this post! 🙂
Jeff White
President, The Stock Bandit, Inc.
Swing Trading & Day Trading Service
www.TheStockBandit.com