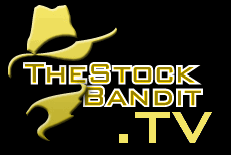 For some time now, we've been producing a free newsletter over at TheStockBandit.com for those who are on the email list.
What started out as a free written newsletter ultimately morphed into free trading videos – and for good reason!  Not only does the video format make the experience much more fun and exciting, but also far more insightful and informative.
There's simply no comparison when it comes to video vs. the written format, which is why last year the Bandit Broadcast (our premium stock newsletter) also switched to video format.
Through the videos, I'm able to show & tell what I'm talking about.  As a result, the feedback has been outstanding.
Introducing TheStockBandit.TV
In recent weeks, we've been working on a new way to distribute the free videos, and I think you're going to love it.  The solution is a brand new, stand-alone site set up solely for the purpose of these videos.
TheStockBandit.TV is a location where you can watch trading videos to your heart's content!  It's a site where each video will be archived and available to you 24/7.  Jump from clip to clip, or search for a topic and see if it has been covered.  If not, just use the contact form and submit your request for what you'd like to see in a future episode.
These are trading videos, so each one you view is designed to help you become a better trader.  Sometimes they'll cover general trading topics or discuss a concept which is vital to your success.  Other times, they'll introduce helpful tips and tools for streamlining your trading process and narrowing your focus for better trading.    Every video is concise, brief, and helpful, so that your time is always well-spent.
You'll find new videos added regularly, so you will not want to miss what's coming.  Therefore, be absolutely sure to subscribe to the RSS feed, or join our free email list to be notified anytime new episodes are posted.
Here are those links once again:
TheStockBandit.TV (new free Trading Video site)
TheStockBandit.TV RSS Feed
Join the Email List for Updates
See you back here soon with another post, and I look forward to seeing you over at the Trading Videos site as well!
Jeff White
President, The Stock Bandit, Inc.
Swing Trading & Day Trading Service
www.TheStockBandit.com
[tags]Trading Videos, Day Trading, Stock Trading, Investing, Swing Trading[/tags]