The timeline for success for almost anything looks something like this:

It's a pretty simple process, although certainly not always an easy one.
Steps 2 & 3 are pretty self-explanatory, so let's explore the first step in the process a little further.  Hopefully you'll gain some insights or gather some resources for ways to increase your learning and progress as a trader.
A Common Question
Rather frequently, I'm asked by traders how to build their trading knowledge.  Many are familiar on some level with various aspects of trading, but feel there are still some missing links before they get to Step 2 (practicing).
Here's an example of one trader's inquiry:
I have read several books that you have recommended, have gone to several seminars ( some good, some a way to spend 10k) have gone to local investor group meetings etc…..I guess my question is, when did you feel as a trader that you were getting some quality trading education?
My response is usually along these lines:
Every one of us should be in continual-learning mode. I have been at it for a decade now and still am learning lessons…some are new, others are "refresher courses." All kidding aside though, I truly think the market evolves over time and it naturally requires that we adapt to it – hence the continual learning.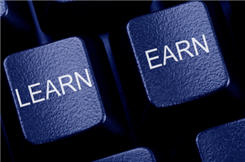 Looking Outward
Quality trading education comes in many forms. It can come from interacting with other traders (in places like Twitter).  Reading good books and visualizing ways to implement the lessons into your own trading is an excellent way to grow.
Taking a stock trading course for some training, or watching trading videos or even attending a seminar here or there definitely will speed up the process.  And of course there is no substitute for experience, so our daily trading activities certainly contribute a lot to our learning as traders.
Those are the external ways to learn, all of which are valid and I highly recommend them.  But don't neglect the internal ways to learn.
Looking Inward
I've always felt that if I'm objective about my own trading strengths and weaknesses, then I know exactly which parts of my trading need improvement. If you are able to determine that, congratulations and you are on your way to finding what you're missing.
Many traders won't be honest enough with themselves to see what they need to "fix" or adjust, so they keep on searching for something. Some of us need discipline on cutting losses, some need help holding onto good trades longer (ME!), some need to find a method for locating trade ideas, etc. The list of potential missing links is long, but you only need find 1 or 2 to see a huge difference in your results.
Evaluating it All
Once you are aware of what you need to work on, you can evaluate every piece of info (other traders, seminars, books, etc.) and know quickly if it addresses your specific need.
So if you get some piece of info which helps you to accomplish your goal of improvement in that key area, then you're getting quality trading education.
Maybe it's expensive, maybe it's free, but the deciding factor is whether it's useful.
I do my best to offer quality free education here on the blog and the trading videos site, but the spectrum of traders here is wide when it comes to experience level.  Some have been at it for a long time, while others are seeking more basic information as they build their trading plans from the ground up.
In the premium nightly newsletter over at TheStockBandit.com, the education provided there fits a narrower audience of traders who want a few trade setups to evaluate and some understanding behind those plays.  They're still learning, but on a more experienced level.
Whatever route you choose to build your trading knowledge, be certain that you're comparing the info to your own situation and constantly figuring out how it applies to you.  That will bring more value whether you're getting free or premium info.
And of course, let me encourage you to keep learning regardless of your experience level.  There's always room to improve.
Jeff White
President, The Stock Bandit, Inc.
Swing Trading & Day Trading Service
www.TheStockBandit.com
[tags]Stock Market, Day Trading, Stock Trading, Investing, Swing Trading[/tags]