There's a common desire among traders to "buy the dip" when given a chance, and I'm here today to show you one such opportunity. The idea of picking up stocks on even a minor discount within the context of a proven trend is indeed a good one – so let's take a look at one chart of interest.
LUV, like many other airline stocks, has enjoyed quite a run over the past several weeks.  The day to day action has been consistent, and although it hasn't seen many huge individual days, the net result is an impressive 39% run over just the past 2 months.  It may not be done either.
Even in the wake of the Christmas Day "underwear bomber" attempt (does that title 'crack' up anyone else the way it does me?), the stock saw only a very shallow decline before posting another gain to finish out the year.
The result of the dip has merely been some quiet consolidation on light volume, which has also created a small descending trend line just above current prices.  A push north of that trend line at $11.60 could mean yet another takeoff for the stock (pardon the pun), so it's on my radar for a play.
Here's a closer look for you: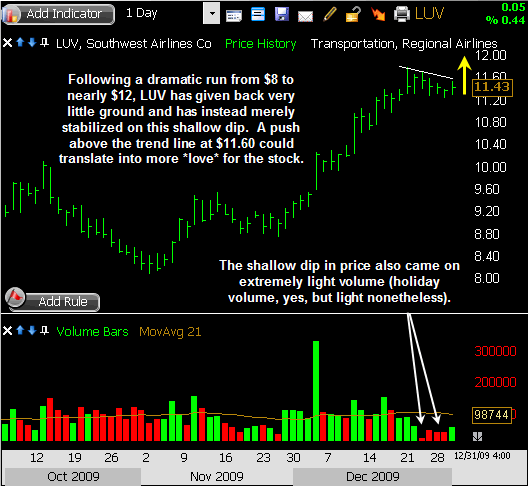 Trade Like a Bandit!
Jeff White
Are you following me on Twitter yet?