Solid technical setups often times will have more than one positive thing going for them.  It may simply be having the market's wind at its back, or it may be more like the stock I'm going to show you today. WIT has made a monster run since the March lows of 2009, tacking on about 350% since then.  And while that's a really impressive advance, the fact is that the stock is still trending higher – and may be poised for more.
Not only does this one have the long-term uptrend and higher lows/highs in place after that move, but even just over the past few weeks WIT has exhibited some great qualities.  It popped big in mid-December on a surge in volume to make new highs, and since then it has put in some needed rest.  We also see on the chart below a pair of white arrows highlighting short-term higher lows as the stock sits just shy of resistance.
On Monday, WIT turned higher on a pickup in volume, indicating we may soon see those highs get challenged at the $23 level.  If so, this is one I'm definitely interested in, so it's on my radar for a play.
Here's a closer look for you: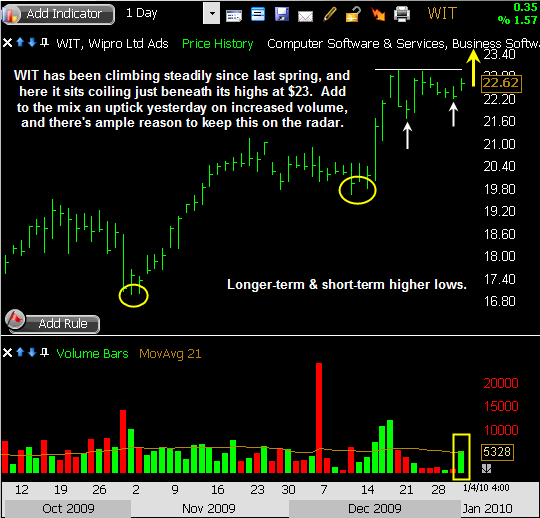 Trade Like a Bandit!
Jeff White
Are you following me on Twitter yet?