When trades come along which offer potential on multiple timeframes, I always perk up.  If one timeframe doesn't appeal to me, the other can still add to my account.
BIDU is one such setup right here.  The channeling stock has been range-bound since early May, and a breakout may be coming soon from this rectangle pattern.  Upper resistance is well-defined, offering day traders a quick-hit setup for an intraday breakout play.  But with confirmation of a breakout – meaning, a close above that resistance level – swing traders also have a shot at a measured move to develop in the coming weeks for a $12 advance to the $90 area.
A breakout could come any day in BIDU, so I've got it on my radar for a trade if it can push through the $78.65 resistance area. This one doesn't have a real clear-cut exit as a swing trade, so it isn't one I'm planning to keep a long time… Just long enough to get paid and move on to the next idea.
Here's a closer look for you: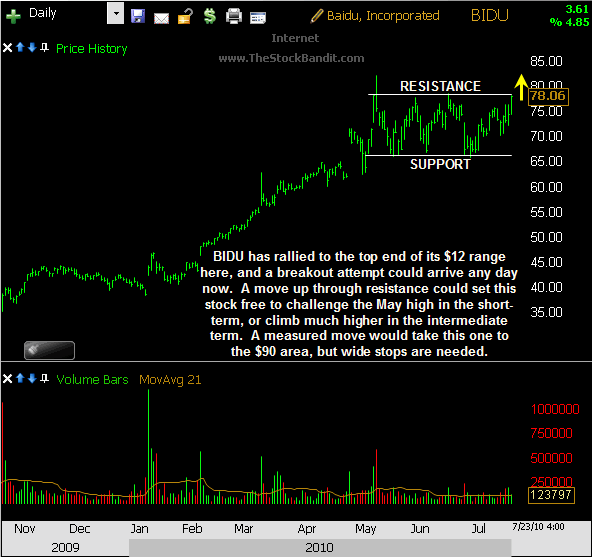 Trade Like a Bandit!
Jeff White
Swing Trading & Day Trading Service
www.TheStockBandit.com
Are you following me on Twitter yet?