Financial stocks are always on the radar of traders, and GS is usually at the top of the list.  Interestingly, this one looks like it's gearing up for a move of its own.
After undercutting support on July 1st, the stock began to grind higher, eventually taking out the late-June high on strong volume.  Since then, a rising trend line from the low has served numerous times as support.  Over the past several sessions, some narrowing consolidation has been seen with the creation of a small descending trend line just overhead.  These two trend lines are now squeezing price in a pressure-chamber fashion, and one of them is about to give.
Typically when two trend lines are vying for control, the longer one tends to win out.  In this case, that could bring an upside resolution to this pattern.  In keeping with the recent market strength, that's a distinct possibility.
I'm watching GS for a push through the trend line at $149.10 for a trade.  Earnings have already been released, and this is a highly liquid stock.  Could be good for a few quick points, but the buyers will have to emerge and push prices beyond the trend line in order to get it.  An unfilled gap from April extends to the $160 area.
If instead the lower trend line is broken (currently at $145), that would be a failure of this bullish pattern and would leave the stock vulnerable to at least a partial retracement of this bounce.
Here's a closer look for you: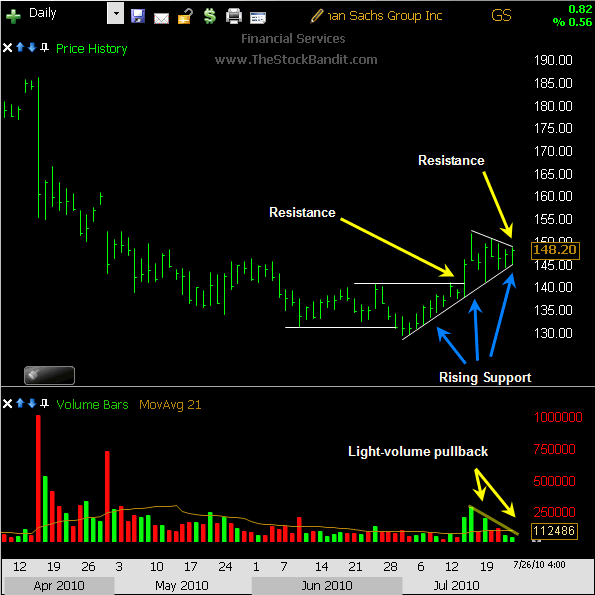 Trade Like a Bandit!
Jeff White
Swing Trading & Day Trading Service
www.TheStockBandit.com
Are you following me on Twitter yet?