The stock market is often times simply a market of stocks, meaning that it's necessary to sift through them all in order to find some which appear tradeable.
Occasionally though, we notice sectors moving in tandem, giving us multiple opportunities in the same group.  That sometimes gives us a chance to identify leaders and laggards, while other times it shows us greater confirmation that something is developing.
Right now is one of those times for the stocks of homebuilders.
Most of them have similar chart patterns, which is the rounded bottom pattern (or rounded low), and they're setting up to confirm bullish reversals in the coming weeks and months.
The (Floor) Plan
Moves which are expected to take up to a couple of months is a longer timeframe than I generally tend to trade, but the nature of this pattern is such that it should take longer to play out.  So, my plan in trading these is to establish small positions, add to them upon further technical evidence of a trend shift, and manage them as position trades.  Because I'm an active trader and expect these to work over the course of a couple of months, I don't want them on my screen every day.  As a result, I'll be utilizing long-term retirement accounts as the 'home' for these homebuilders.
Keep in mind, I'll be maintaining protective stops just in case these patterns don't pan out, and I will be starting small and looking to add later.  But the technical foundations are there for these longer-term patterns to play out, and I like the risk/reward they're offering.
Here's a quick rundown of several I'm seeing…
LEN trended lower from its April price spike to fill a gap from January, which is technically healthy.  In recent weeks, the downtrend has stalled as price is stabilizing just beneath resistance: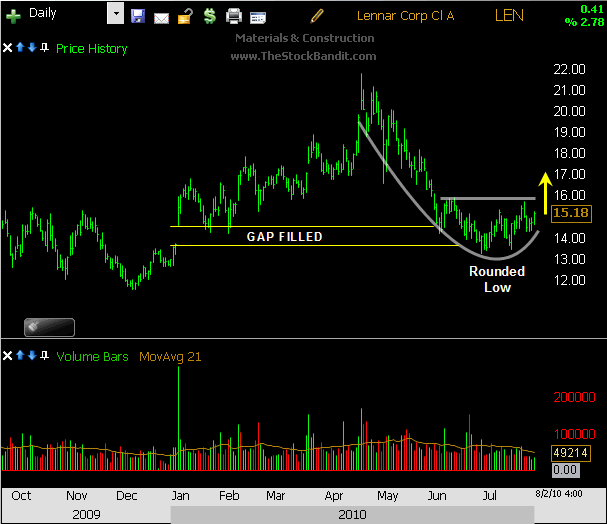 DHI pulled back enough to take out its December 2009 low, and not by much.  That kind of move often shakes out some traders who will now likely add to the strength by jumping back on board if this rounded low pattern is confirmed: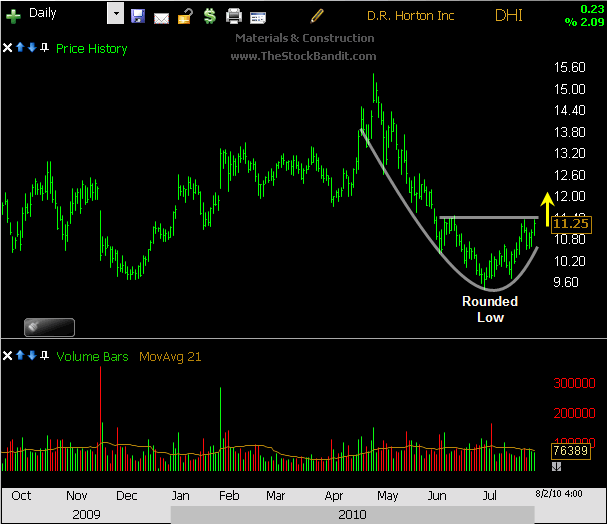 HOV briefly undercut support from early this year on its latest selloff, which was a nasty 57% correction.  Price has stabilized in recent weeks with some short-term higher lows, and this one still has plenty of room to rally: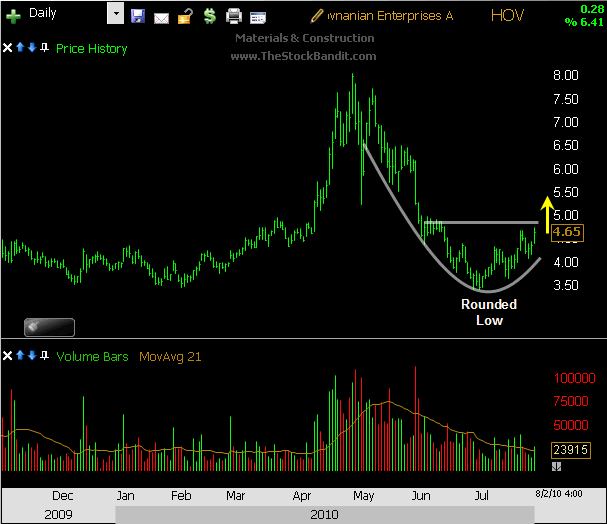 PHM trended persistently lower after topping in late-April, and two positive things have happened since then.  First, the decline has made no progress in 2 weeks.  Second, a rounded low is in place, which if confirmed, could ignite a solid push higher as this one retraces at least a portion of the May-July selloff: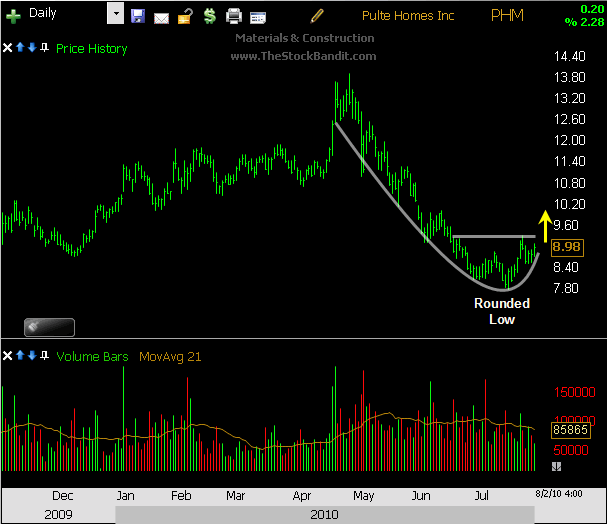 RYL sold off sharply from its April highs, but for the past several weeks, price has stabilized and established support.  A move up through resistance would set this stock on the path toward higher prices: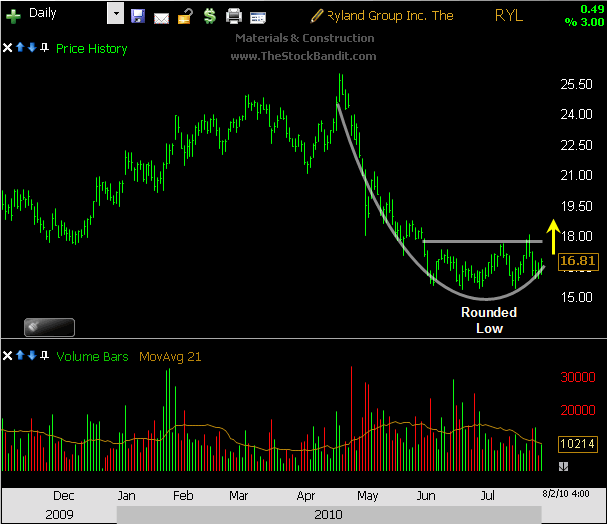 MTH has found recent support after a big correction, and here again, the rounded low would be confirmed with a move up through resistance: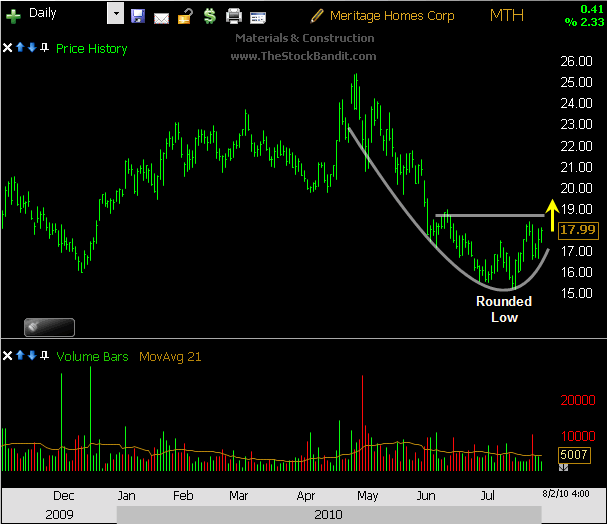 KBH was cut in half from its April peak to July low, and in recent weeks has carved out support.  Price is now beginning to curl higher, and a move through resistance would confirm that: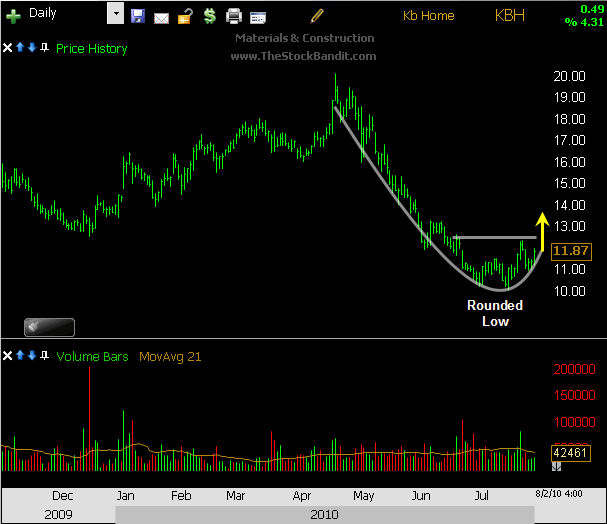 SPF gave up 58% during its harsh selloff between April and July, but now is gaining strength and looking to accelerate higher if resistance is cleared: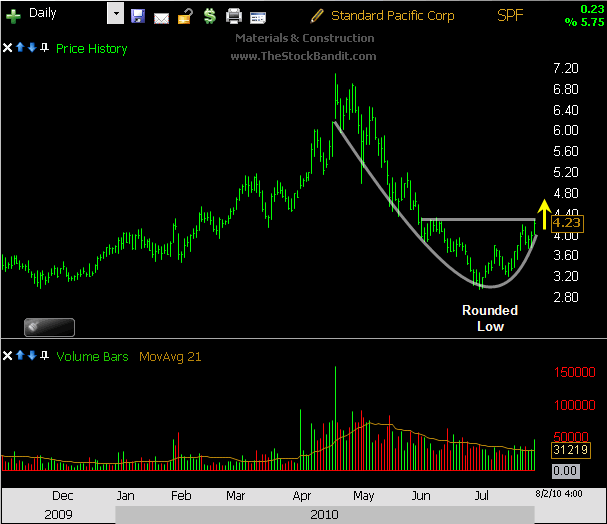 Finally, TOL is looking good after finding support in July and creating some short-term higher lows in recent weeks.  A push through resistance would free up this stock for higher prices as well: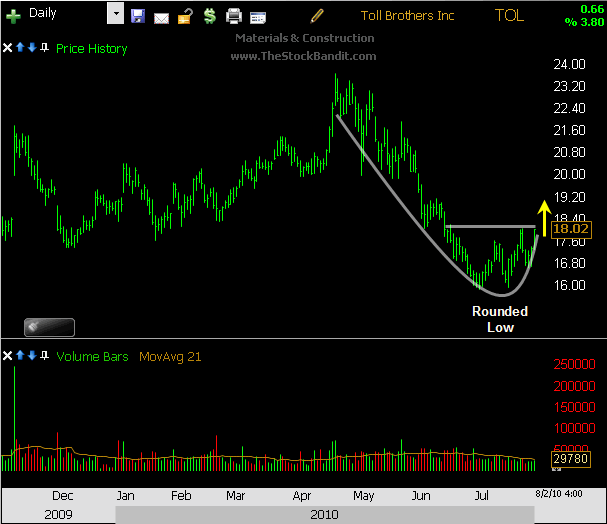 Trade Like a Bandit!
Jeff White
Swing Trading & Day Trading Service
www.TheStockBandit.com
Are you following me on Twitter yet?