In a world dominated by algo's and machines, the astute trader can still turn a profit.  It's true, despite what many losing traders might tell you.
It takes adaptation, some ingenuity, imagination, and of course, thinking outside the box.  For the creative trader though, new patterns will emerge from which profitable trades can be made.
So today, I wanted to point out to you one such example.  I won't name the stock, because it doesn't matter, but here's the chart from the opening 50 minutes or so: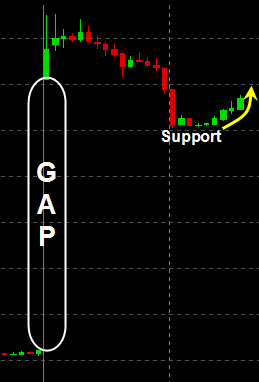 As you can see, this stock gapped higher, ran a little more initially, and then began to roll over.  The selling intensified as new lows were made on the session, and the gap began to fill before a brief period of rest set in.  But that wasn't the end of the story.  Conventional day trading wisdom says this gap keeps getting filled, but only if  another new low is made with a break of that intraday support.
Lately I've noticed this kind of setup – and you can reverse it with a downside gap if you'd like – offering some good plays.  I had one finger on the trigger to short sell this one upon a break of that support, but it held just above the whole number.  As the stock started to catch a bid, I went long with a very tight stop – only $0.06 from my long entry.  And only 10 minutes later I was flipping out my shares for a quick $0.50 winner.
** For those wondering, that's a reward-to-risk ratio of better than 8:1.
This setup offers two things I really like…
First, it offers very minimal, defined risk.  If support (or resistance in the case of a morning gap down) gives way, I'm out quick for a small loss.
Second, it offers a great pivot area where emotion is building.  The battle that took place at support was really something, and once one side began to win out (in this case the buyers), it sparked a quick move away from that level.
So, keep an eye out for this setup – it's been a great one to trade.  Gaps which only partially fill before hesitating at a level just might offer you a quick, profitable reversal play like this one.
Trade Like a Bandit!
Jeff White
Producer of The Bandit Broadcast
Are you following me on Twitter yet?