Active traders couldn't help but notice the moves in VHC over the past couple of months.
Coming from relative obscurity in the 12's, the stock caught fire from late-March into early-April, running to nearly $30 in just a few weeks.  It then settled into a wide congestion zone as it did a good job of digesting that massive run.
We ended up with a very broad symmetrical triangle pattern, which also resembled a huge bull pennant when the preceding rally was included.  Here's a look at the run it made, along with the pattern I'm referring to: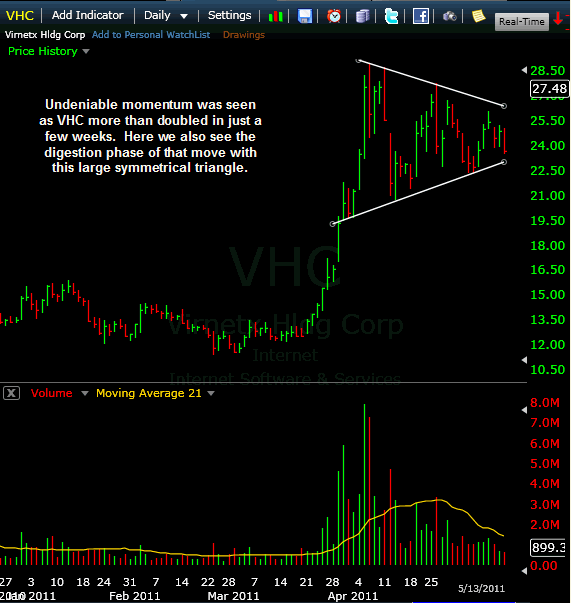 Now, symmetrical triangles can break in either direction, but when found within the context of a trend, it never hurts to watch for an upside resolution.  After all, these triangles are simply areas of indecision, and given the prevailing trend was up in this case, many were looking for that trend to continue once the period of indecision was resolved.
In mid-May, however, the stock began to falter as it undercut the lower trend line of the triangle.  It appeared as though some further profit-taking was about to kick in, so the tide shifted.  A hard breakdown was quickly embraced by short sellers aiming to profit from a move to lower levels.  Volume picked up with the distribution, and multi-week lows were made.  Here's a look: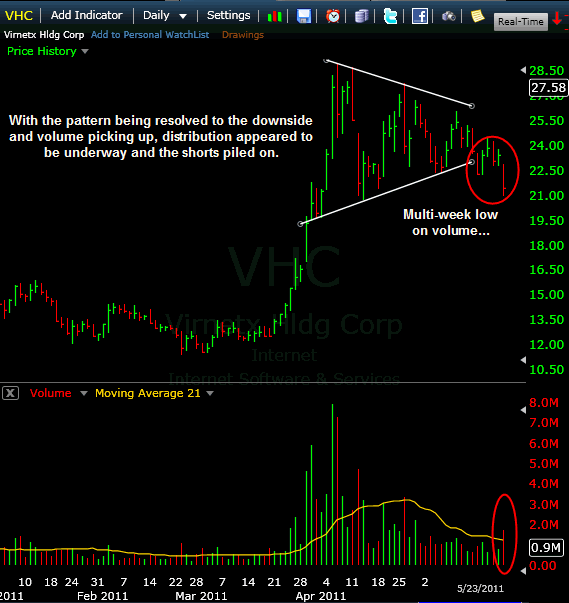 But as the stock began to bounce, the selling never resumed.  Bulls sensed a failed pattern in the making, and they pressed the long side for another run.  Bears, meanwhile, recognized they were trapped, and quickly began to cover their shorts.  The resulting melt-up was quite impressive, as the stock tacked on more than 48% over the course of just 7 trading sessions.  Here's a look at that run: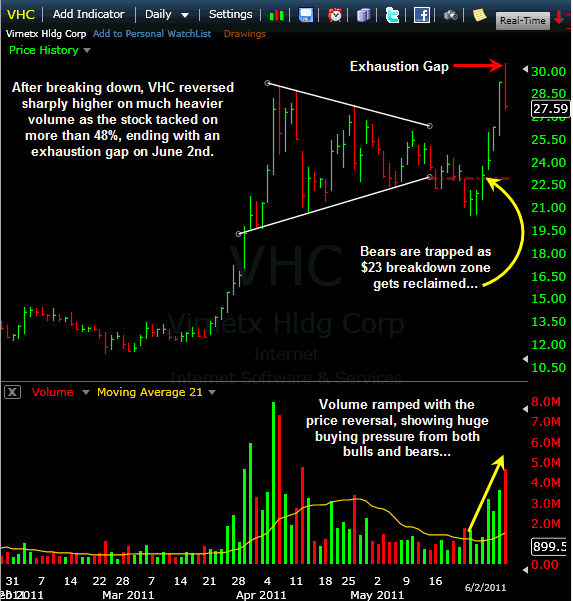 As you can see, the day it peaked (June 2), it also reversed lower.  Thanks to an exhaustion gap in an already very extended stock, we saw a last-gasp attempt at a push higher before the inevitable pullback kicked in, brought about by profit-taking.
Since then, the stock has corrected a bit further, and may have more room to rally in the days and weeks ahead – who knows.  Rather than guess at what happens next out of this non-pattern, let's consider some useful lessons from this short squeeze of the past couple of weeks and see what we can learn.
3 Takeaways:
Obvious patterns don't always play out as expected. The massive symmetrical triangle / bull flag setup had a ton of eyes on it, and had it broken out initially to the upside, it may have produced another ramp higher.  Instead, it broke down first, catching many off guard – ultimately in both directions.  Wait for your signal, and never underestimate the importance of keeping an open mind, and be ready to react to whatever comes along.
When you determine you're wrong, get out.  That might sound elementary, but simply doing that could have avoided a lot of pain for those adding to their shorts as VHC reversed higher or simply not covering until the pain was too great.  There is room in this game only for those who exhibit discipline, all others

will

fund the ventures of those with that trait.
Always consider the other side of your trades.  This is important on the front end, before you enter, but it's equally important

during

your trade.  Those caught leaning short in VHC needed to consider the opportunity the bulls were facing once the breakdown level was reclaimed ($23 broken on 5/16 and reclaimed on 5/26).  Don't take your eye off the ball, even after you've made contact with it.  The home-run you think you've just hit might only be a single, and that's alright.  Weigh the alternative, and if you find yourself on the wrong side of the balance, call it a trade.
The next time you're caught in a short squeeze or you see one developing, keep in mind how far they can go – it will either give you an opportunity to exit your short sale with less pain, or hop on board for a quick momentum ride.
What experiences or thoughts would you add to this?
Trade Like a Bandit!
Jeff White
Producer of The Bandit Broadcast