An absolute commitment is required for some things in life, like let's say, a social function.  Either you're going or you aren't, right?  However, other things might require a lower level of commitment.  Your diet, for example, might currently be more of an "I'm trying not to eat too many sweets" approach right now.  That's what I'd call a partial commitment, where it's not an all-or-nothing approach.

When it comes to trading though, far too many traders think they have to be "all in" or "all out" of their positions.  Nonsense!  Think outside the box a little.
On the surface, we know that commissions are so cheap these days that there is no problem with splitting up positions by making partial exits when a situation calls for it, so that shouldn't hold you back from adopting this mindset.
There are some occasions when it's very useful for me to either lighten my position size, tighten my stop, or both.  Let's look at some examples of each, and I hope you'll add your own thoughts to these in the comments below.
Lighten!
* I should clarify that I'm talking here about lightening up on a position mid-trade.  This is not to be confused with when to trade smaller.
Lightening up on a position is a way to Defend both my capital and my profits.  Whenever I get a poor fill on a trade where my order is executed at a price which is considerably different than my trading plan accounted for, it's time to lighten up.  By definition, the risk/reward profile of the trade has changed (since the entry price has changed and my stop is now farther away), so naturally I need to make an adjustment.  This is the scale I use to do that on my swing trades.  Doing this keeps my risk in check with what it should be, allowing me to stick with the trade – even if it's now a smaller amount.
Tighten!
I won't enter a trade unless I know my get-out (stop loss), but that doesn't mean my stop never changes.  Sometimes the situation changes in such a way that an adjustment is warranted.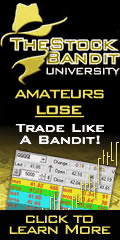 Market conditions may necessitate such an alteration to my plan.  Suppose I'm long as a limo, and suddenly the complexion of the market shifts to something quite negative.  Maybe news breaks or we see a key reversal set in – well, I'm in denial if I think the landscape hasn't changed.  In those cases, it makes sense to tighten my stops on long positions as a way to shore up my risk.
On a per-trade basis though, sometimes the way a stock moves just happens to change, and that can also warrant tightening my stop.  Maybe a stock initially breaks out with momentum, but rather than showing follow through or putting in healthy rest, it simply begins to stagnate.  Volume disappears, a sloppy trading range sets in, and I start to see a lack of conviction with weak closes in the stock for several straight days.  That's a time when I'll definitely tighten up my stop, whether in time or price, as the stock simply isn't behaving in such a way to deserve a long leash.
Both!
My favorite occasions are those which allow me to both lighten my position and tighten my stop.  That usually occurs when my first profit target is hit.  That's a spot where the trade has moved enough to warrant booking some gains (lighten), but the stock may not be done running yet.  Typically, I'll have 2 targets, so sometimes there's still room for additional gains.
At this point, my initial stop is also now a considerable distance away, so it makes sense to tighten it as well (often to breakeven for remaining shares).  This way, I'm risking less on what's left of my position, while still allowing for additional profits if the stock continues to run.  Win/win.
** What are some keys you use mid-trade for knowing when to lighten up on your size or tighten your stop?  I have a Bandit t-shirt for the best response, so bring the ideas!
Trade Like a Bandit!
Jeff White
Producer of The Bandit Broadcast